Even though I belong to North India, I was brought up in Mumbai. I have passed 23 years of my life in Mumbai. During my childhood days, whenever I accompanied my mom to the market, I always got fascinated by that gorgeous silver, thick fleshed fresh beauties - Silver Pomfret, a sea water fish. Being a north Indian, at our home we always had fresh lake water fishes only. My mom bought it for us and fried it with spicy yummy chatpata masala (spices) for our meal. We loved it very much, thats when I started relishing Pomfret fry. Luckily, Even my husband is very much enthusiastic about fishes and now, my kids too 🙂
After marriage, when I shifted to Bangalore, I hardly saw any Silver Pomfret in fish market. Here in Bangalore you will find many variety of fresh lake water fishes and little less variety of fresh sea water fishes unless you go to big fish market like Russell market or supermarkets like Auchan or Hypercity. Chances of getting silver Pomfret there also are pretty less. Fortunately, I got them in Hypercity this time and immediately I grabbed few of them. I decide to make stuffed Paaplet Rava fry. You all must be wondering what is this Paaplet…In Maharashtra, Pomfret is called as Paaplet. This Paaplet Rava fry is very popular in Maharashtra and Goa. Sometimes, it is stuffed with green chutney and coated with rava/semolina and fried. And, sometimes it is just marinated with few spices , coated with semolina and fried. Choice is all yours. But, I do prefer to stuff it first with tangy spicy green coriander chutney, then marinate it with another few spices, coat it with semolina and fry. Do it the way I do it, trust me you will love the flavours of chutney, spices and crisp coating of semolina with rice flour.
Do include fishes in your meals at least thrice a week, to keep yourself healthy. Fishes are rich source of Protein, Omega-3 fatty acids that reduces triglycerides and cholesterol level, decreases blood pressure. Although not all the fishes are high in omega-3fatty acids but smaller amount of it is present in most of the fishes.
90-100gms serving size of fish is highly recommended for an adult to have at least 3 times a week either in baked form or shallow fried in less oil. Happy healthy Eating! 🙂
Now, lets go back to the recipe…here is how you do it.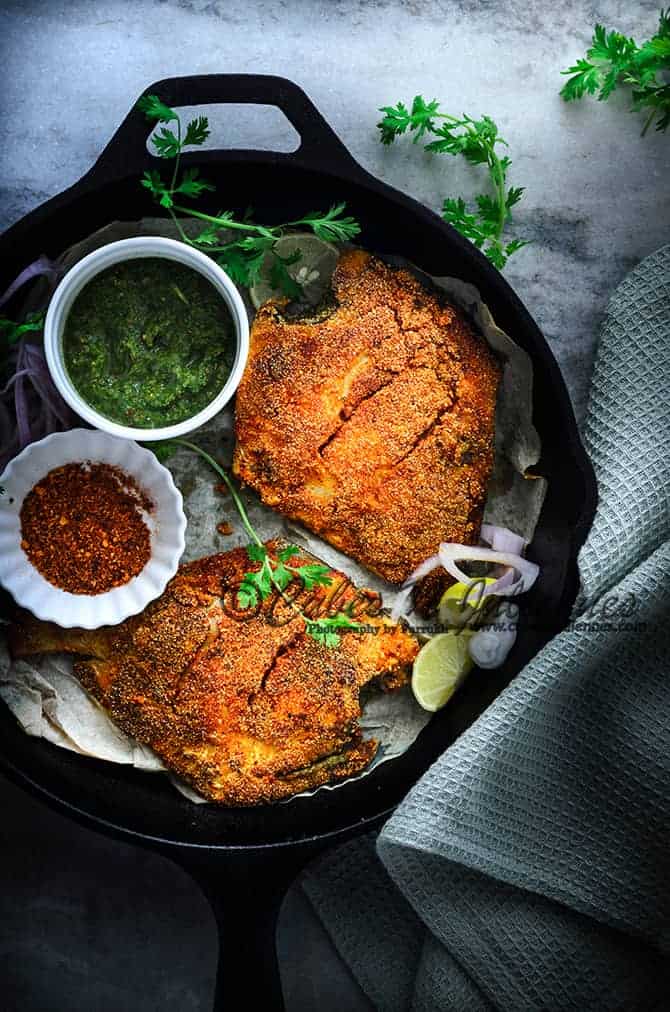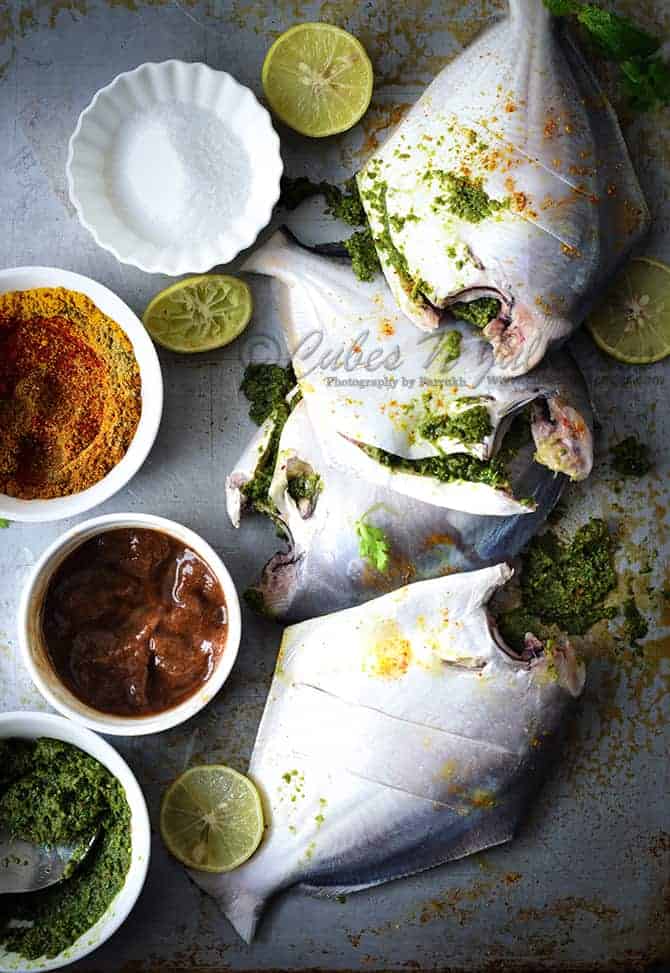 4 medium sized pomfrets(pamflet/paaplet)
For stuffing: (chutney paste)
2 green chilies (you may adjust according to taste)
1 tbsp, coconut, fresh (optional)
2 tsp, Kashmiri red chili powder
1 tsp, garam masala powder
¾ cup, semolina (rava/sooji)
½ tsp, kashmiri red chili powder
Clean and wash pomfrets very well.
Make gashes on both sides of the fish. Also slit the fish from one side to make hollow for stuffing.
Grind all the ingredients mentioned for stuffing to a fine paste
Stuff the fish with prepared (chutney)paste and keep it aside for 5 minutes
Combine all the ingredients mentioned for marinade. Rub this mixture very well all over the fish on both sides. cover and keep it aside for 10 minutes.
Heat oil in a large frying pan.
Combine semolina, rice flour, red chili powder and salt in large plate, mix well
Coat both the sides of each fish very well and shallow fry in hot oil on medium high heat. Do not fry fish on very high or very low flame.
Fry for 3-4 minutes from both the sides or until they are golden brown, crisp and cooked well.
Take them out on absorbent paper. Fry in batches, Do not overload the pan.
Serve them hot and crisp with green chutney, onion rings, lemon just as an appetiser or as meal along with dal rice or roti/phulkas/parathas