Mutabbaq also called as Murtabak is a very famous street food of middle east specially Saudi Arabia. The word Mutabbaq word is derived from the word Mutabbag which means folded in Arabic. The main ingredients of this dish is minced meat, eggs and spring onions though you may add other greens if you wish to. Minced meat is cooked with mild spices mixed with eggs, onions, tomatoes and wrapped in a rolled out dough discs. You will find these on the streets specially during the month of Ramadan. These are crispy and flaky when you take a bite, but as your bites goes deeper you will experience the softness and spiciness of the minced meat complimenting the two textures perfectly. You make it and I bet you wont resist yourself from just going on having it again and again..Your tummy might give up but your heart would ask for more and more..
Let's quickly go through how we do it..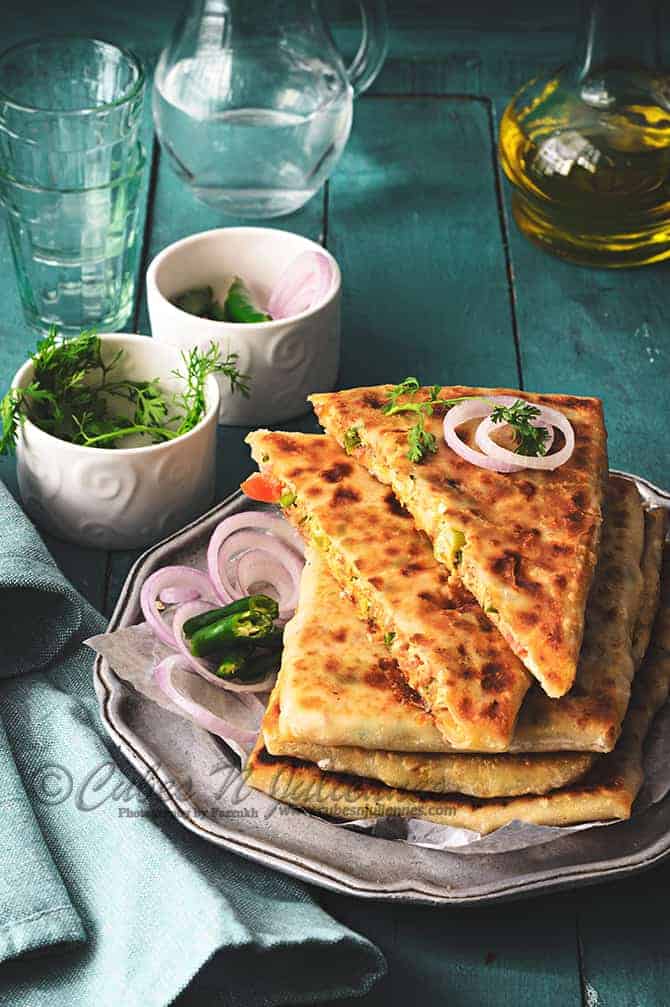 Ingredients:-
For dough:
1 cup + for dusting, all purpose flour ( maida)
¼ cup, warm milk( you might need little extra)
For filling:-
1 large onion, finely chopped
2nos, green chilies (you may adjust as per preference)
1 tsp, garlic,finely chopped
½ tsp, garam masala powder
½ tsp, black pepper powder
1 nos, large tomatoes, finely chopped
¾ cup, spring onion, finely chopped
¼ cup, coriander leaves, finely chopped
Method:-
In a bowl sieve flour and salt
Gradually add warm milk and start kneading the dough.
Knead the dough for 4-5 minutes, it should be very soft.
Slightly oil the dough, cover with damp kitchen towel and allow it to rest for 2 hours
In a pan or kadhai,heat oil.
add onions and fry until it turns pink
Add green chili, garlic and ginger, sauté for a minute or 2
Add meat mince and sauté on high heat for 2-3 minutes
Add chili powder, coriander powder, black pepper powder and sauté on high heat for another minute
Sprinkle some water, cover and simmer for 6-8 minutes (do not too much water as we want mince to without any gravy)
Lastly, add salt, garam masala powder, lemon and mix. cook for another minute. Keep in mind that no water should remain
Take it off the heat and cool
Assembly:-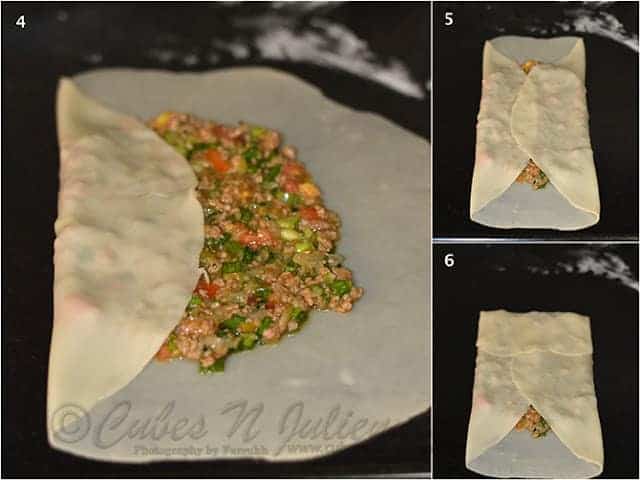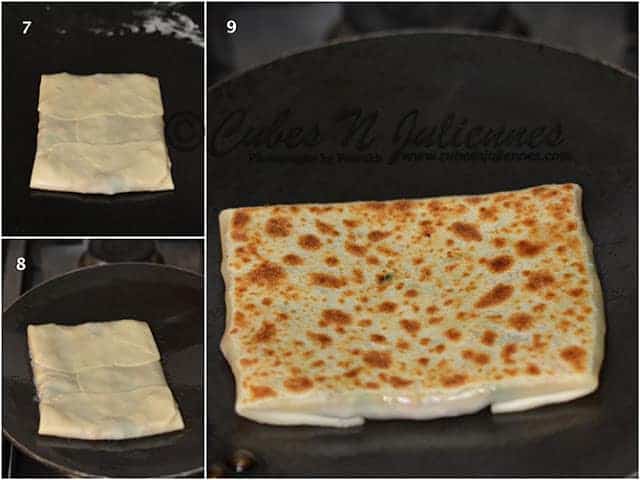 In a bowl combine cooked mince meat, finely chopped tomatoes, chopped spring onions, coriander leaves, beaten eggs and mix well. Divide the mixture equally into 4 parts
Divide the dough in 4 equal balls
Grease and flatten one ball as in Pic 1
Slightly dust the platform and roll out the ball into paper thin circle ( I rolled it into 13 inch paper thin disc) as in Pic 2
Place one potion of the prepared filling in the centre of the rolled out dough and spread it gently leaving approx 3 inches towards the edge as in Pic 3
Gently fold the edges to to seal the filling and form a rectangle as shown in Pic 4,5 and 6
Gently lift the mutabbaq and place on hot griddle. Allow it cook until golden brown spots appear. Drizzle some oil and fry until cooked from one side.
Gently flip, drizzle some oil and cook as in Pic 7,8 and 9. Do not cook it on very high heat as it might burn the mutabbaq, griddle should be hot but flame should be medium to cook them.
Take it off the griddle. Repeat the same for all the balls
Cut and serve hot mutabbaq with ketchup or sauce and onion rings