Kesari Aam Barfi
"CubesNJuliennes" is my workplace where I create and share recipes with all my lovely friends and followers.  You would be glad to know that CnJ has achieved a great milestone of 3 lakhs views in the last 11 months back from June end of 2013 when CnJ was seeded. I would like to take this opportunity to personally thank you for enabling me to reach so far. It would not have been possible without  your love and affection, the faith and trust you have shown in me and my recipes, encouraging with your lovely comments and appreciation. It is celebration time and here I bring for you another mango sweet as the Mango mania is on a roll…In most places of the world where people wont be able to find khova/khoya easily, this would be just the right recipe for them. I have made it with just milk powder and minimal condensed milk as a replacement and the taste at the end is no less than a khova barfi.  The rich taste of mango embedded in the barfi would make you go uuuummmmm…..(lost in the taste) as the barfi goes melting in your mouth.
Here is how you too can make it…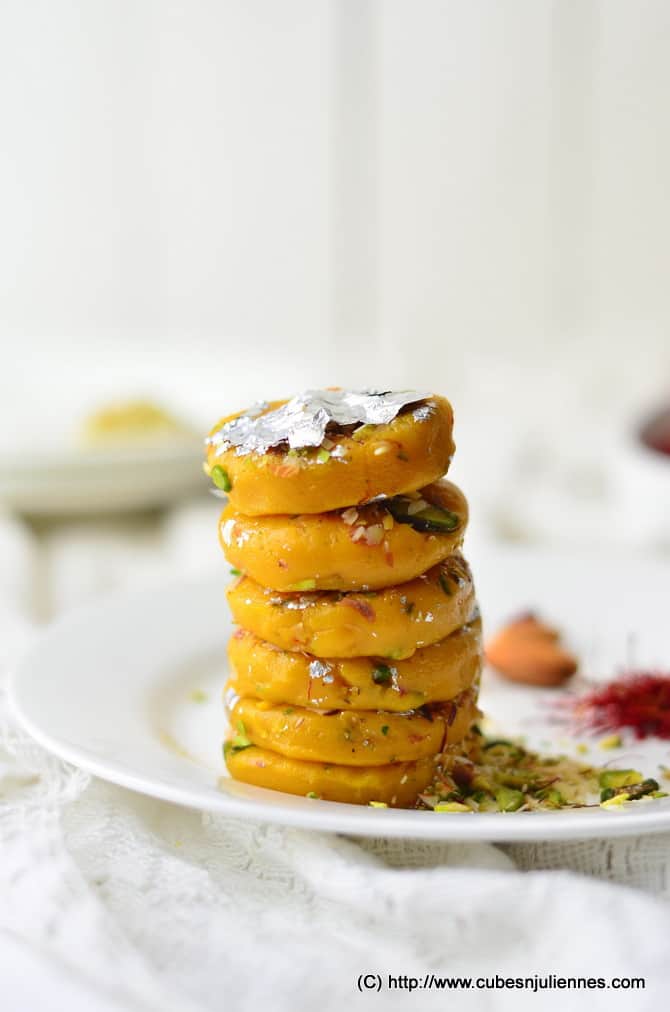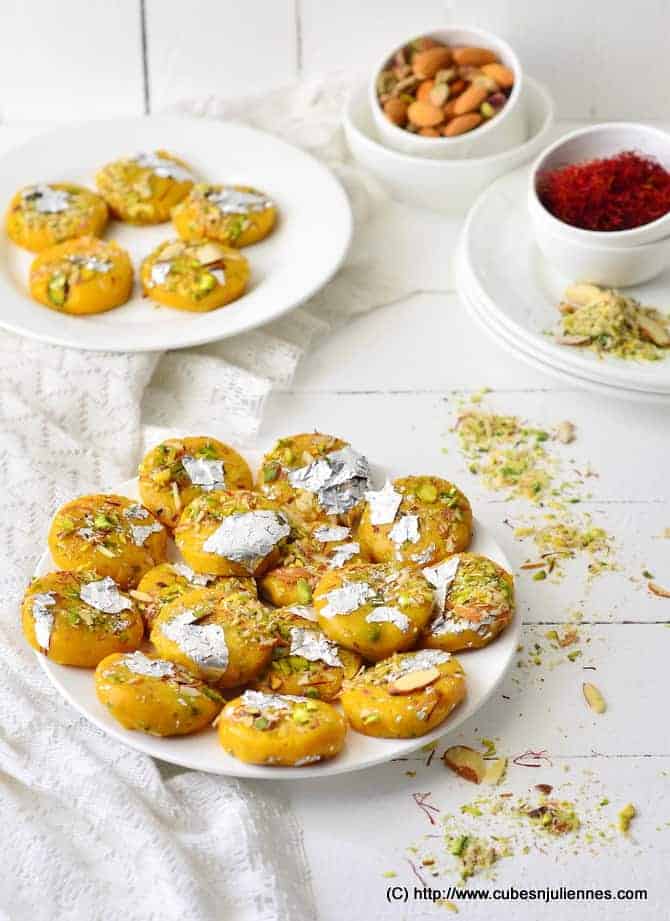 INGREDIENTS:-
3 cups, mango pulp (I have used fresh Alphonso mango pulp)
¼ cup, sugar
1 cup, milk powder
2 cups + 2 tbsp, full cream milk
100 gms, condensed milk
Generous pinch of saffron
1 tsp, cardamom powder
2 tbsp, ghee
For garnish
Slivered almonds and pistachios
Saffron
Silver paper (warq)
METHOD:-
Soak the saffron in 2 tbsp of milk and keep it aside.
Combine milk powder and full cream milk.  Whisk well to form a lumpfree mixture.  Keep it aside.
In a heavy bottom pan, heat together  ¼ cup of sugar and mango pulp.  Cook till the mango starts getting thick(sauce consistency).  Keep stirring intermittently.
Once the mango mixture thickens, add the prepared milk powder and full cream milk mixture, cardamom
powder and saffron mixture.  Mix very well so that all the ingredients combine well.  Keep stirring at intervals.
Once the mixture is reduced to less than half, add a tbsp of ghee and condensed milk. Mix well.
Cook this mixture till it starts leaving the pan and forms a very soft dough.
Take it off the stove and spread it on a greased thali or cake tin.
Allow it to cool completely till set.
Garnish the top with slivered almonds, pistachios and saffron.  Cut the barfi into desired shape.  Top with saffron and silver paper.
Enjoy !!!
NOTE : – You can keep them in airtight container and refrigerate them for later consumption. You can preserve them upto 3 to 4 days.
You may add more sugar or condensed milk if you prefer to make it more sweet.