Indo Chinese cuisine is one most liked cuisine by my kids, especially my son. I woke up this morning and along with me woke up my routine question " what shall I cook for
today?? "
When I opened my fridge…all I could see were oranges. Oranges being my son's favourite, had to make it to the only thing he loves i.e. Chicken. So combined oranges and chicken to make his favourite Indo Chinese meal for today. It was treat for him. Here is how I made it..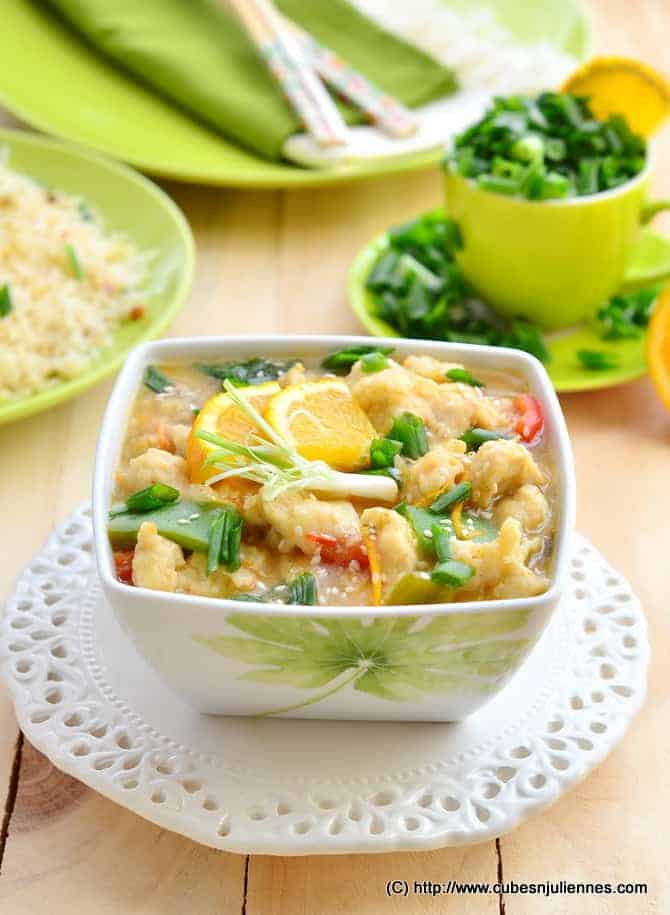 1 tsp, white pepper powder
3 nos, medium chicken breasts, cut in strips
6 to 8 nos, garlic cloves
1 nos, medium sized red bell pepper (cut in cubes)
1 nos, medium sized capsicum (cut in cubes)
1 nos, red chili, chopped
½ tsp, white pepper powder
3 nos, spring onion , white portion(finely sliced) and green portions separated(for garnishing)
Marinate the chicken strips with all the ingredients mentioned in the Marination section.  Keep the chicken marinated for an hour.
Once chicken is ready for frying, add lightly beaten egg to the marinated chicken and mix well.
Heat enough oil in a wok.
I
n a plastic bag, add corn flour and roasted sesame.
Add marinated chicken pieces and shake to coat the strips with flour and sesame.
Deep fry the coated chicken strips for 3 to 4 minutes in hot oil.  Do this in batches and do not overfry the chicken.
Take the strips out and drain them on absorbent towel, keep them aside.
To make sauce, heat sesame oil in a wok.  Add sliced garlic cloves and fry till golden brown. Add chopped red chili, spring onion whites, zest of an orange and toss them well. Add bell peppers and toss.
Add the fried chicken, lemon juice, salt, white pepper powder, soy sauce, honey and toss well.
Add orange juice and toss.
Make a paste of corn flour with little water and keep it aside.
Add water to cover the chicken. Once it starts boiling, add corn flour mixture and stir.  Cook for another minute or till the sauce gets a thick consistency.
Dish them out, garnish with roasted sesame and spring onion greens.