This may sound a new combination as Dal Gosht is usually prepared in Tur Dal (Yellow Lentil) or Masoor Dal(Red Lentil) or Chana Dal (Split Bengal Gram) but I have always relished this combination since my childhood. I recommend to try out this yourself to experience how well Mutton goes with Whole Black Lentils(Urad).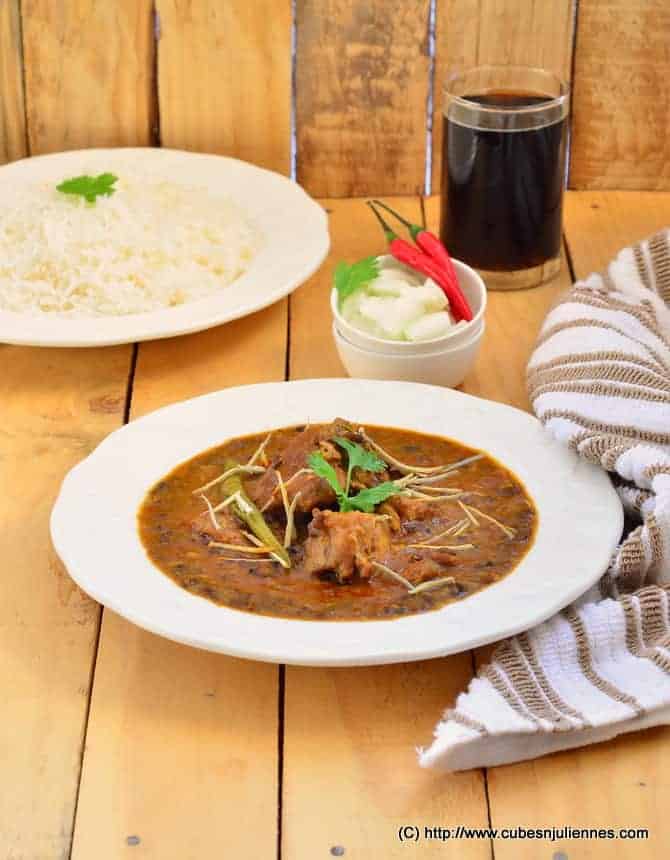 INGREDIENTS:-
For dal:
1 ½ cup, whole black lentil ( whole urad dal)
1 large, onion, sliced finely
1 inch ginger piece, grated
6-8 nos, garlic cloves, crushed roughly
1 large bay leaf
Water to boil dal
For mutton:
500gms, mutton( boned), cut in cubes
2 nos, onions, medium, finely chopped
2 nos, tomatoes, large, finely chopped
2 tsp, ginger garlic paste
5 tbsp, yoghurt, whisked
1 stick cinnamon of 2 inch size
10-12 black peppercorns
6-8 nos, cloves
2 black cardamom
1 tsp, cumin seeds
1 tsp, red chili powder
¾ tsp turmeric powder
1½ tsp coriander powder
1½ tsp, garam masala powder
1 tsp, cumin powder
1 tsp ginger juliennes
Juice of 1 lemon
1 tsp, kasuri methi, crushed
2-3 green chilies, slit (may vary as per preference)
4 tbsp, oil
2 tbsp, ghee
Water as required
Salt as per taste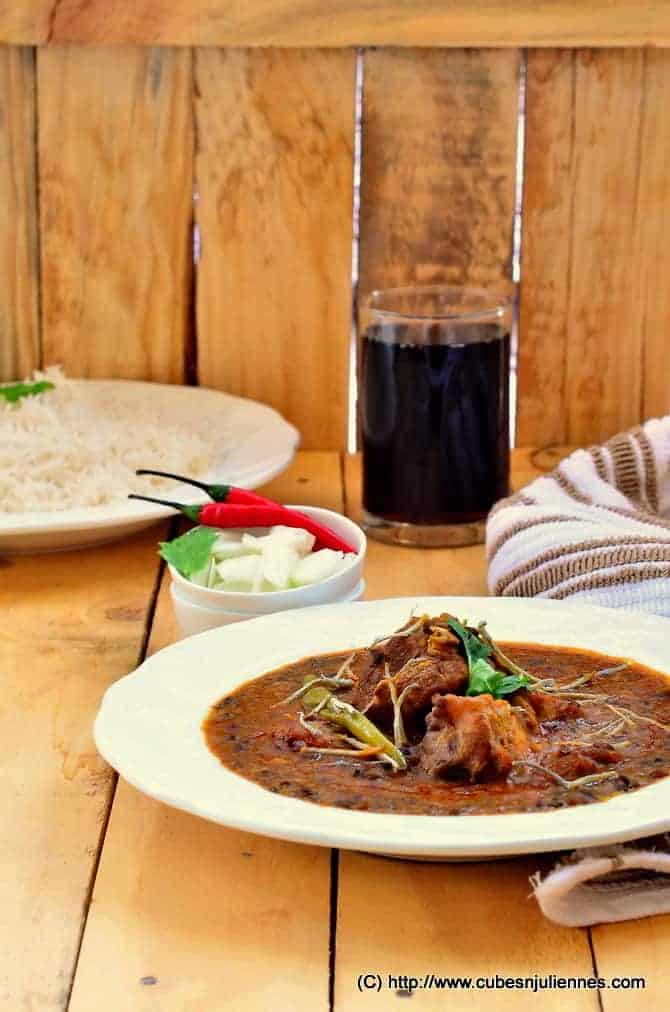 METHOD:-
Wash and soak whole lentils for 3-4 hours
Boil dal with all ingredients mentioned above for dal along with enough water until done. Lightly mash the dal with back of the ladle. Do not mash too much or make a paste
In another utensil or pressure pan, heat oil. Add cumin seeds, cinnamon, cloves, peppercorns, black cardamom and fry for few seconds
Add onion and fry till translucent. Add mutton and sauté on high heat for a minute. Add ginger garlic paste, tomatoes and sauté for another minute.
Add turmeric, chili powder, coriander powder, cumin powder and fry for 2-3 minutes
Add whisked yoghurt and stir until blended well. Add garam masala, salt, cup of warm water and cook until mutton is just tender, do not overcook the mutton.
Once done, add boiled dal to mutton and some more water. Allow it to boil. Once started boiling, cover and simmer for 30 minutes. Stir in between to avoid sticking or burning at the bottom. If required you may add more water, do not add too much water at a time.
After 30 minutes, add lemon juice, kasuri methi, green chilies slit and 2 tbsp of ghee. Simmer for another 15 minutes.
Dish out the dal, garnish with ginger juliennes, coriander leaves and serve hot with naan,steamed rice or pulao of your choice.