This month of April 2014, there have been too many ups and downs for me. Summer is here with unbearable temperatures and extreme weather variations causing the whole family's health go down. Then there comes my own health, where my lower back problem got aggravated. I had to get under the terrorising and horrifying MRI machine and then a boring physio sittings. This MRI incident has become one of the most memorable moment of my life 🙂 on a lighter sense.
I had to take a little off from my blogging as suggested by the doc and hence the whole of April I could not satisfy my followers with my breath taking pictures of delicacies, mouthwatering recipes and amazing food. Just trying to catch up speed back but will have to control myself for some more time so that I recover completely and then just flood back with loads of new dishes.
The heat is tempting me to just keep gulping cold drinks but have got strict instructions from hubby to not to do so. So, looking out different ways to quench my thirst with whatever can be made at home. Last week was
Aam Panna
and this week its another cooler from my kitchen called Melon Citrus Buzz !!  Musk Melon and Water Melons are fav fruits of my hubby and little daughter, so this one was prepared for them.  Added to it a tinch of citrus by mixing some grape fruits and a lemon. It is a perfect low cal refresher using honey for sweetness and all the freshness of mint.
Here is how I made it….
INGREDIENTS:-
1½ cup, water melon, deseeded
1 cup, musk melon
1 nos, grape fruit, peeled and segmented
Juice of 1 lemon
2 tbsp, honey (can be varied as preferred sweetness)
2 sprigs, mint leaves
Few ice cubes
Few mint leaves and lemon slices for garnishing.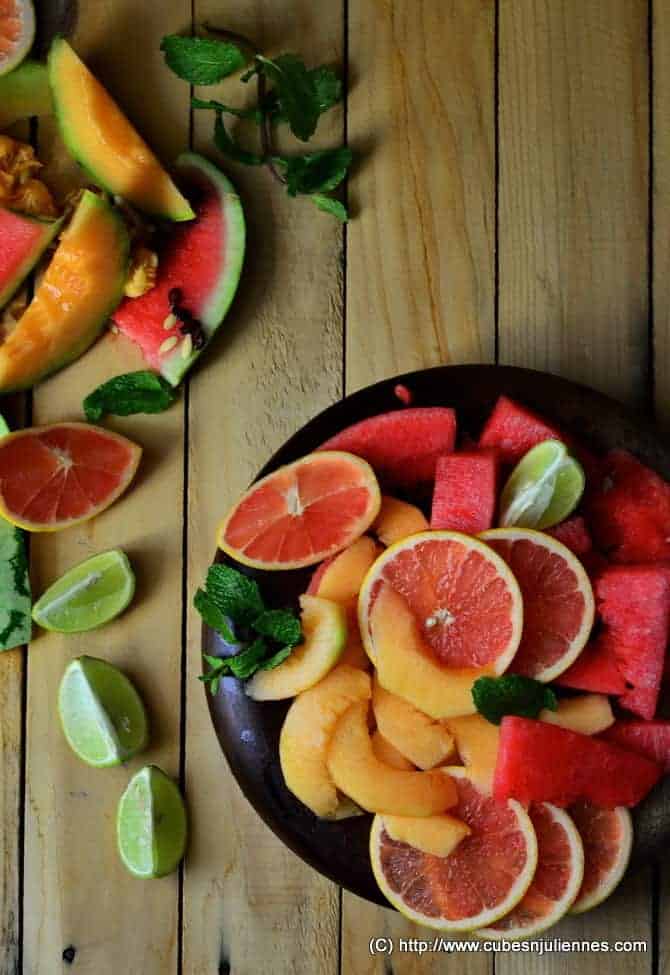 METHOD:-
Blend together water melon, mint leaves, musk melon and grape fruit until smooth.
Add honey, lemon juice and few ice cubes.  Blend it for another 10secs.
In a glass to be served, add 1 to 2 mint leaves, lemon slice and few ice cubes.
Pour the prepared buzz in the glass and garnish the top with lemon slices and mint leaves.
 Serve immediately.