Malai Peda is delicious melt in mithai fudge of cottage cheese (chenna) and khowa ( evaporated milk). These delectable pedas will be loved by adults as well as kids. Making sweets at home is such a pleasure and a feeling of contentment especially when you get the compliment that nothing is as best than home made sweets. Yeah! this is what I earned from my hubby after he had this elegant beauties.
After going though the recipe you might be wondering 'the use of vinegar and not washing chenna, will it not make the pedas sour". Indeed not! straining the whey is all that is needed. You may also use Lemon juice or even curd to make the chenna. Personally I always prefer using vinegar to make chenna as I always found some lemony tinch to the chenna thats when i switched to vinegar which I found to be best. To make it Kesar Malai Peda, the only thing you need to do is just add a pinch of saffron soaked in 3 tablespoon of milk and add it to mixture while cooking with khowa.
Peer these beauties and this will surely make you try your hands on this…So, let's get started how to do it at home.
Read Also: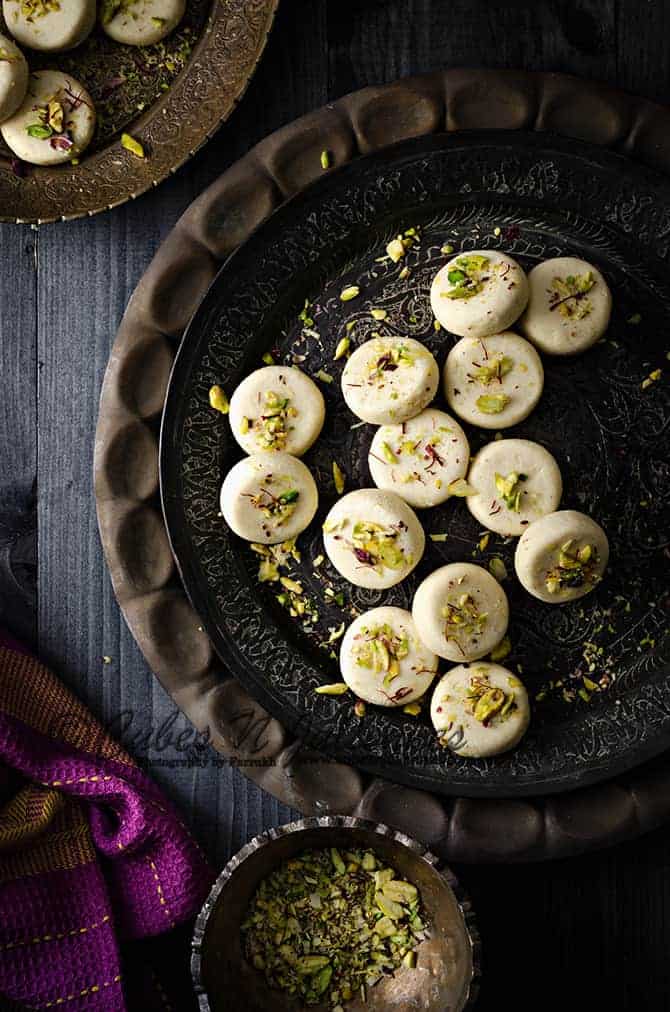 Ingredients:-
2 litres full cream milk
200 gms, Khova
5-6 tablespoon sugar ( you may add more)
1/2 teaspoon cardamom powder
few drops of rose essence
1-2 tablespoon vinegar
Slivered pistachios and saffron for garnish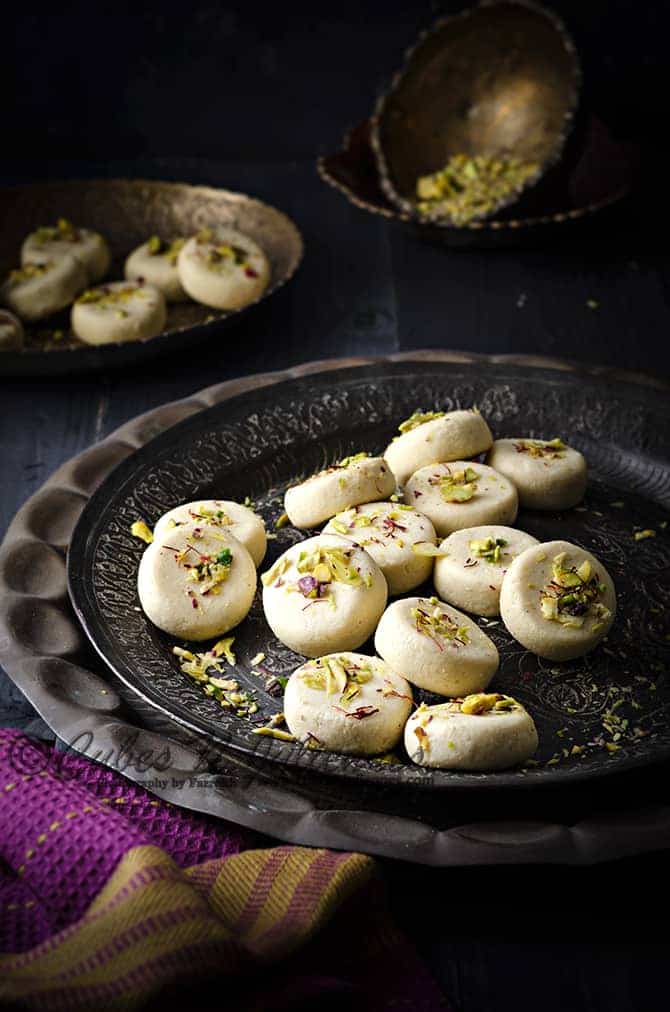 Method:-
In a heavy bottom pan, bring milk to boil. Simmer and reduce milk to 3/4 .Collect the Malai (cream)from the top of the milk and keep it aside
Now, gradually add vinegar and stir gently and milk will curdle
Once all the whey is out, strain the whey ( Do not squeeze it the curdled milk) 90% percent whey should be strained. If little is left back, its absolutely fine.
Now, put back the pan with curdled milk ( chenna) on the medium flame. and cook until you see whey getting dried up. Keep stirring to avoid burning
Add crushed khova/ mawa and mix well Cook until mixture starts forming lump
Add cardamom powder, sugar and rose essence and mix well
Cook until the mixture forms a soft dough and starts leaving the pan.
Transfer the mixture on the plate and allow it to cool.
When mixture has reached warm temperature ( you can easily handle), knead it with the heels of your palm such that mixture softens, smoothens and your hands become greasy.
Now, divide the mixture in to equal small balls and shape in the form of peda or you like
Garnish with with pistachios and saffron
Serve as and when required
Malai Peda stays well easily for 4-5 days in a clean airtight container under refrigeration
Note:
Strained can be further used for kneading the dough or in cooking.