Dals are a basic ingredient of our daily food menu. Dals are almost prepared everyday along with other vegetables or main dishes. The simplicity is Dals gives the flexibility to make numerous variations to it and make a different type everytime. You can make them plain, with tadka or add any vegetables or leafy greens and relish it. In our family, dals are mainly made with vegetable embedded in it and mostly enjoyed with hot steamed rice and any non-vegetarian dry side dishes.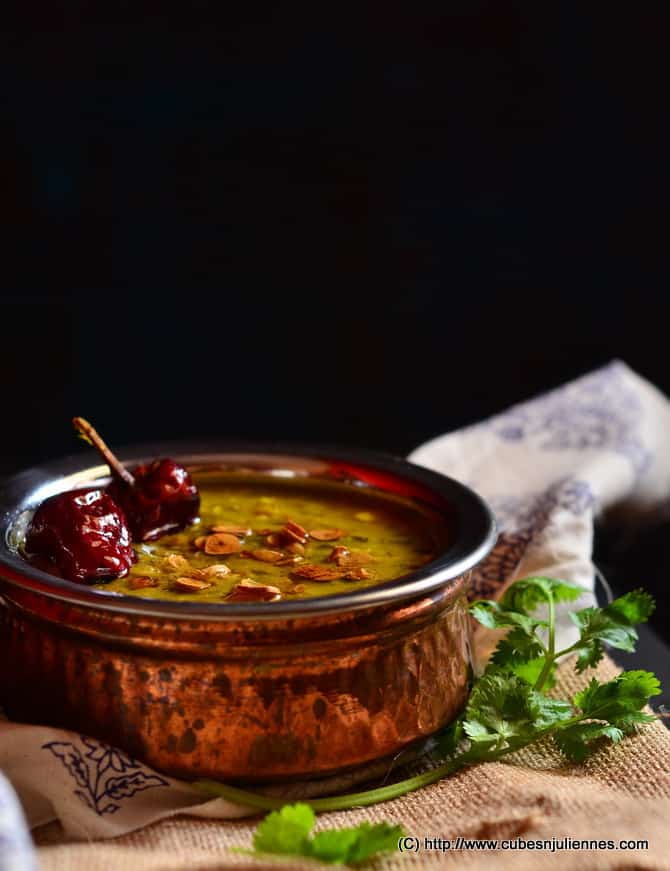 INGREDIENTS:-
1 cup, yellow lentil(toor dal)
2 cups, fenugreek leaves, fresh
1 cup, tomato, chopped
7-8 nos, garlic cloves, chopped
1, onion medium, chopped
¾ tsp, turmeric powder
2-3 nos, green chilies (may vary as per preference)
Juice of 1 lemon
5 cups of water
Salt as per taste
For Tadka:
8 nos, garlic cloves, finely sliced
4-5 red button chilies or any variety of whole red chili
 2 tbsp, oil/ghee
METHOD:-
Clean and wash, dal and fenugreek leaves
In pressure cooker, boil dal along with fenugreek leaves, garlic, green chilies, tomatoes, onion, turmeric, salt and water till done. You can also cook dal in heavy bottom utensil on medium heat stirring intermittently
After the dal is done, place it back on the stove top, add lemon juice and allow it simmer for 3-4 minutes.  You may adjust the consistency of the dal as needed.
Heat oil or ghee in small pan, add sliced garlic and fry till golden. Add button chili, fry for few seconds and pour over dal. Do not burn the garlic
 Serve hot with phulka or rice