Rogan josh is an aromatic lamb dish which is now a signature of Kashmiri cuisine.  Traditionally, Kashmiri Rogan Josh is prepared using lamb meat with bones and little fat. It has a thin gravy with a thick layer of oil on top. There are specific spices which have to be used to give the authenticity to the dish, viz, ratan jot, Kashmiri red chilies, fennel powder, yoghurt and dry ginger powder.  Unfortunately, I could not get ratan jot root so I haven't used but if you can get it, please do use it to get a perfect color of the dish.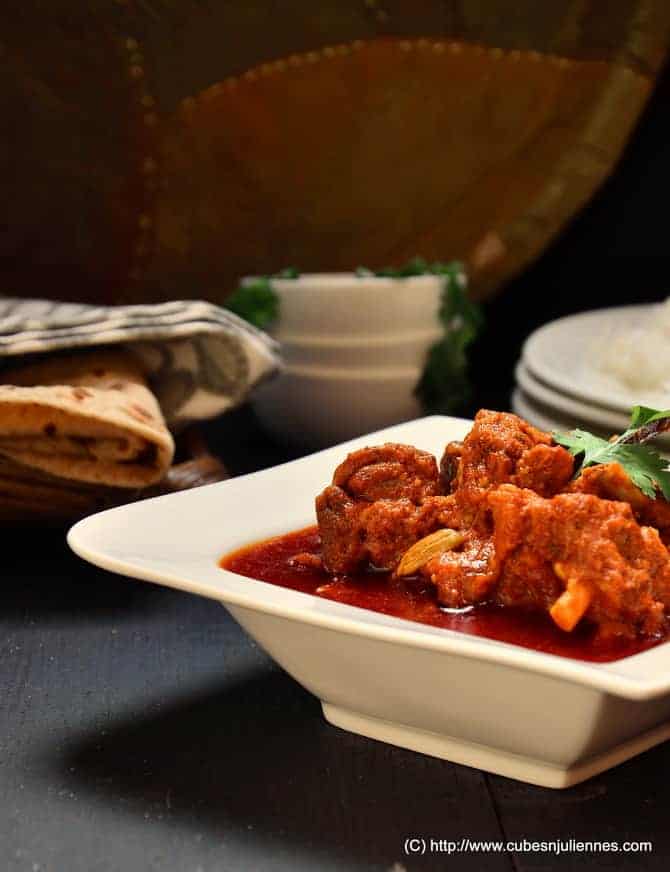 INGREDIENTS:-
For marination
500 gms, mutton, with bones and little fat
1 tsp, Kashmiri red chili powder
½ tsp, black pepper powder
For gravy
300 gms, yoghurt, whisked well
1 nos, cinnamon stick of 1 inch
2 tsp, Kashmiri red chili powder
½ inch sized ratan jot root (infuse it in heated oil)
Marinate the mutton with the spices mentioned in the marination ingredients section. Cover and keep it aside for an hour.
In a heavy bottom utensil or pressure cooker(if using), heat mustard oil till very smoky.
Take the pan off the heat. Add bay leaf, black cardamom, green cardamom, cinnamon sticks, cloves and black pepper corn.  Stir and put the pan back on the stove.
Fry for few seconds taking care that the spices don't get burnt.
Add marinated mutton and fry on high heat for 6 to 8 mins stirring occasionally. The mutton pieces should turn brown. Add asafeotida, ginger powder and stir.
Add 1 cup of water and mix. Simmer for 8 to 10 mins.
Add Kashmiri red chili powder, fennel powder in yoghurt and whisk well.
Add the yoghurt mixture to the fried mutton and stir continuously till the yoghurt combines well with the mutton. 
Add ratan jot infused in oil.  Cover and cook till mutton is done.  This may take around 1½  to 2 hours. Keep stirring at regular intervals.
If using pressure cooker, cook upto 3 to 4 whistles or till done.