Grilled Paneer Veggies Sandwich is flavoursome healthy light meal that can be enjoyed for breakfast, brunch or even as an evening snack. Further more, this yummy sandwich makes healthy option for your kids lunch box. The grilling of paneer and veggies can be done ahead and stored easily in refrigerator for 2 days. The only thing needed will be slightly reheating of the required grilled mixture and sandwich assembly before serving. In case if you opting for the healthy supper, go ahead with low fat paneer, skip the cheese and proceed with the rest.
It is a myth that eating paneer is a sin as it is bad for your health, in-fact paneer is high on calcium and protein. Low fat paneer when taken in moderation, help in weight loss too apart from providing nourishment to your body. Since paneer is high in protein it keeps you slaked keeping your hungers at bay. So, do include modest amount of paneer in your diet to get all the benefits that keeps you fit and fine. Let's go through the making of this delectable sub sandwich.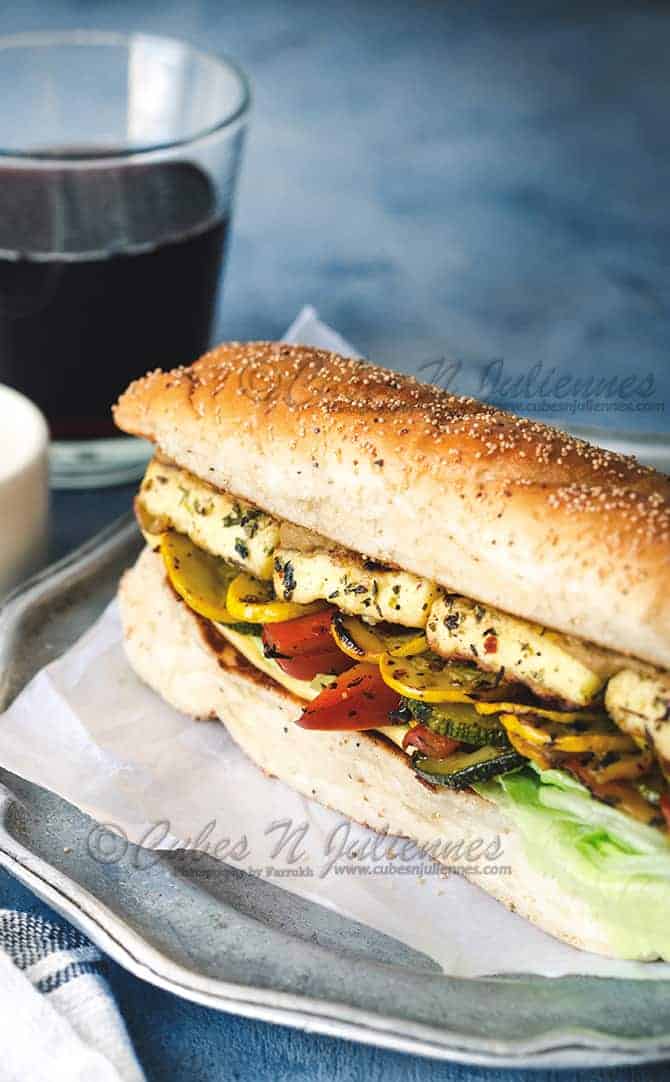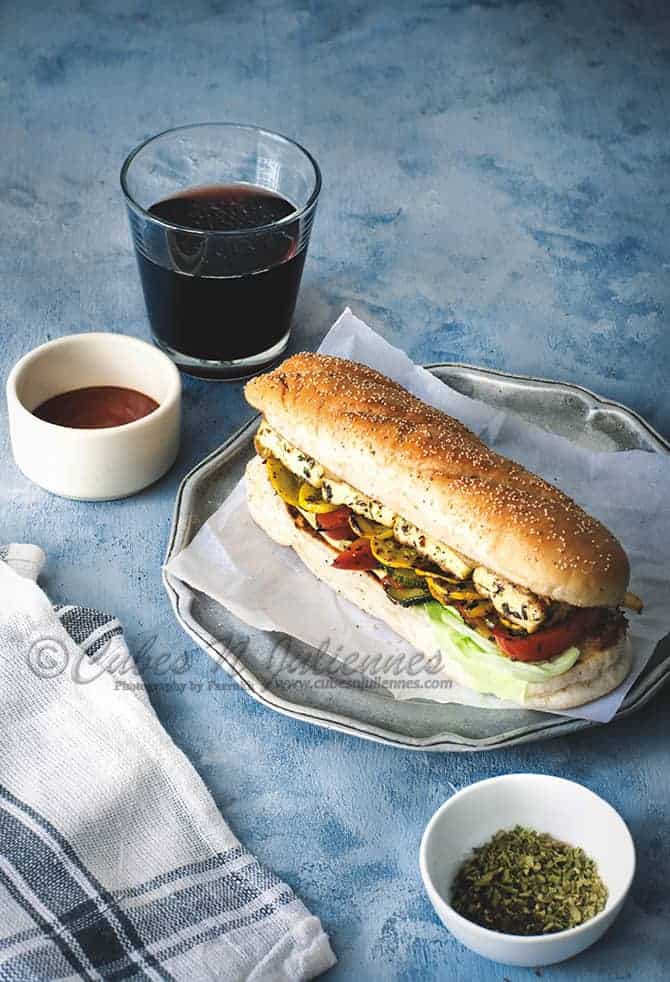 Ingredients:-
75 grams, paneer(cottage cheese), cut in 1 inch size thickness
1 cup, veggies, sliced(red and yellow bell pepper, yellow and green zucchini)
1 teaspoon, garlic cloves, finely chopped
1 teaspoon, red chili flakes
1/2 teaspoon, dried oregano
1/2 teaspoon, dried thyme
1/2 teaspoon, dried rosemary
juice of 1 medium lemon
1 tablespoon, olive oil
Salt and pepper to taste
1 submarine bread
Mustard sauce, as required
3/4 cup, iceberg lettuce, roughly torn
1 teaspoon, butter
1 low fat Cheese slice
Method:-
To prepare grilled veggies and paneer, first let's make the marinade. In a clean bowl, add finely chopped garlic, dried oregano, dried thyme, dried rosemary, red chili flakes, lemon juice, 1 tablespoon olive oil, salt and pepper. Mix them all well. Now, add paneer slices and sliced veggies to the marinade and gently toss them well, cover and keep it aside for 5 minutes.
Next, heat the grill pan well (if using cast iron grill pan, brush it with little olive oil). Take out the paneer slices from the marinade and grill it on high heat for 2 minutes on each side.Take out the grilled paneer from the pan and keep it aside in a bowl.
Now, add veggies along with marinade, toss them well and allow them to cook on high for 2-3 minutes. Switch off the heat and take out the veggies from the pan. Keep it aside.
Next, Slit the submarine bread horizontally. Apply butter on both the halves of the bread. Roast both the halves on hot griddle until slight golden brown.
Place a cheese slice on lower half of the bread and make an even layer of iceberg lettuce. Make an even layer of grilled veggies and then place grilled paneer pieces on the top.
Top it with dollops of mustard as per you requirement. Cover the sandwich with the other half of the bread.
Serve this delicious wholesome grilled paneer-veggies sub sandwich as a breakfast or weekend brunch.