Sub sandwiches are my most liked light nosh. Flavoured slab of meat, or paneer or patties stacked with all the crunch of fresh veggies, tartness of pickles and lusciousness of sauces is what I habitually crave for. Filling for sub sandwiches is not at all confined to few. It can be any meat or veggies or patties flavoured with any spices or sauces and cheese, choice is all yours to deck up your sub breads not only at sub counters but even at home. So, here is one such stunning combo of chicken with cajun spice that is grilled to infuse smoky aroma and stacked between sub bread along with crunchy ice- bergs, veggies, pickles and mayo. Quick, easy, cheesy, healthy home made sub sandwich….let's go through how we do it….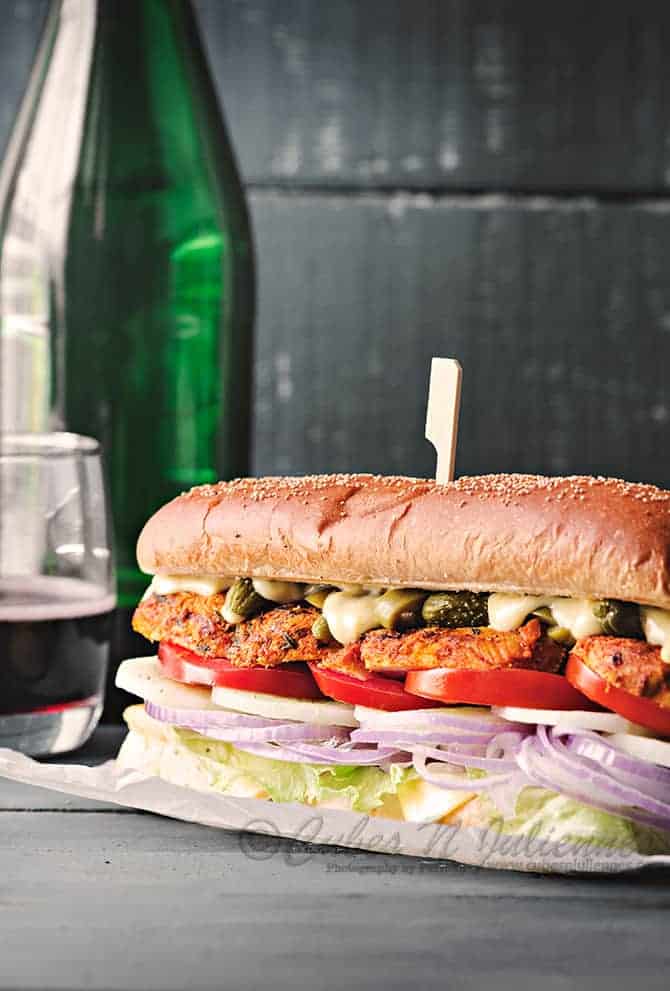 Ingredients:
For marination:
2 chicken breasts, boneless
1 tbsp, cajun spice powder(I have used my home made spice, find the recipe here)
For Sandwich:
2 submarine breads
1/2 cup, onions rings
1/2 cup, cucumber slices
1/2 cup, tomato slices
Ice berg lettuce, roughly torn, as required
Pickled gherkins as required
Pickled jalepenos as required
Olives as required
Mayonnaise as required
2 nos cheese slices
Method:-
For Grilled Cajun chicken:
Wash, clean and make slits on the chicken breasts.
To make the marinade, mix all the ingredients mentioned for marination.
Marinate the chicken breasts in the prepared marinade. Cover and refrigerate for 30 minutes.
When ready to cook, brush the griddle pan(grill pan) with little oil.  Heat it over high heat until very hot.  Add few drops of water to sizzle it.  Place the chicken breasts and cook each side until thoroughly cooked.
Remove the chicken out of the pan, slice them. 
Assembly:
Slice both the loaves horizontally into two and slightly roast it on griddle or grill.
Place cheese slice as bottom layer on base of each loaf
Make layer of generous amount of ice berg lettuce,onion rings, cucumber slices, tomato slices 
Top with grilled cajun chicken slices on both the loaves
Put dollops of mayonnaise and gently spread it.
Top with olives, pickled jalapeno, and gherkins
Cover the sandwich with other half of the sub bread
Enjoy
Note:-
Sliced grilled cajun chicken can made ahead and refrigerated, assemble sandwich when required