Friday, a day when my family is in wait of mutton, chicken or egg delicacies at home. Every week, on this day you will find my home filled with fetching aroma of either non vegetarian gravies or pulao or biryani. After a friday prayer at mosque, my husband come home for a lunch desperately waiting to dive-in the surprise on our dine table. This week it was an 'Egg Dum Biryani' for him as he is a die hard egg fan, he loves to dig into a plate filled with an egg cooked in any form, with gusto. I must admit, even I and my daughter are also an egg fan but most of the time I prefer to relish an egg either in fried, poached or in biryani form. So, it was party time for all of us. This egg biryani recipe is always a winner and made earn accolades whenever i served it to my family, relatives or my guest. Now, its time to share this no fail recipe of an egg biryani to you all my dear lovely readers. Here is how I do it….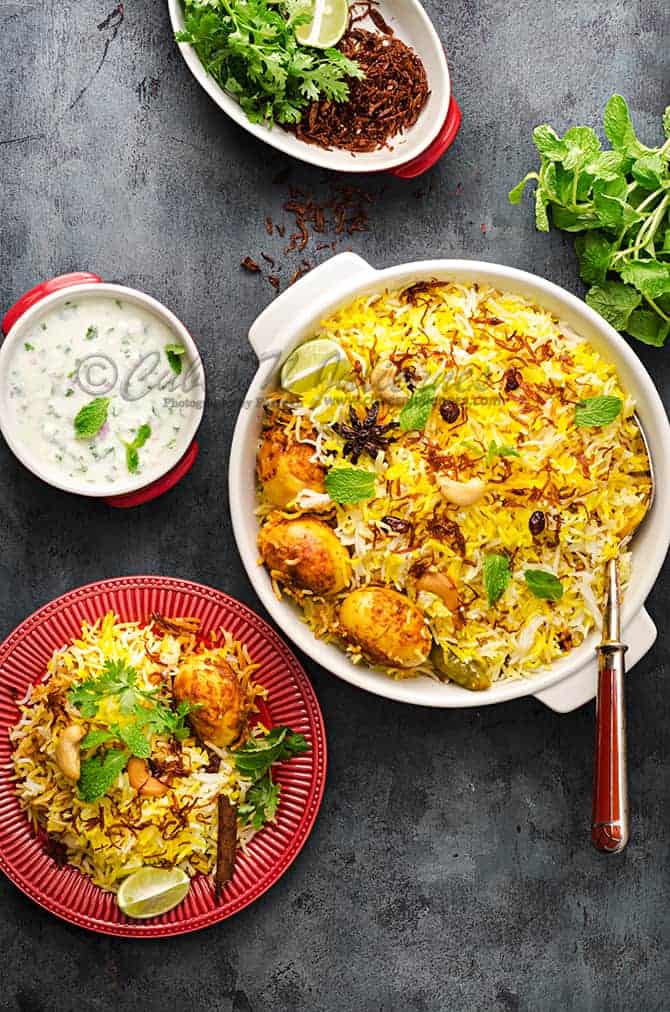 4 nos, large onions, thinly sliced (half moon like)
4 nos, large tomatoes, thinly sliced (half moon like)
3-4nos, green chilies, slit 
1/4 cup, golden fried onion, crushed
Dry roast and grind to powder:
2 cinnamon stick of 1 inch
1kg (5 cups) long variety basmati rice or biryani rice 
few drops of kewda(screwpine) essence
A generous pinch of saffron soaked in 1/2 cup of warm milk
1/3 cup, golden fried onions
Fried cashews and raisins
In a pan heat 2 tbsp ghee and fry the eggs until golden brown. Take it of the heat and keep it aside
In another pan or handi, heat 7 tbsp oil, add sliced onion and fry until they are very soft and pink ( do not brown them)
Add ginger and garlic paste, slit chilies and fry for a minute
Add sliced tomatoes and sauté for a minute. Cover and cook for 3-4 minutes until tomatoes are soft
Add ground spice powder, red chili powder, turmeric and salt, cook for a minute
Lower the heat and add whisked yoghurt, mix well
Add lemon juice and cook for another 2 minutes
Now, slit the fried eggs and drop it gently in masala( gravy), add crushed brown onions and cook till only 10% gravy remains. Gravy should neither be too dry or too watery
Soak rice in enough water for 30 minutes.
Drain the water from soaked rice and cook it with 9 cups of water, green cardamom, cloves, cinnamon, star anise, 1 tbsp ghee, few drops of kewda essence, salt and lemon juice
Drain the water from soaked rice and add it to the boiling water along with lemon juice and kewda essence
Cook until no water remains and it is cooked 90% 
Make the bottom layer of the 1/3 of the cooked rice. Sprinkle 1/3 of the soaked saffron milk over the rice
For middle layer, gently spread the cooked egg gravy evenly. Sprinkle another 1/3 of saffron soaked milk. Spread mint leaves and brown onions evenly.
Add remaining 2/3 of the cooked rice, sprinkle remaining saffron soaked milk, yellow food colour (mixed with little water) and garnish the top with fried cashews and raisins
Cover with the lid and put some heavy weight on the lid 
Keep it for Dum (simmer) for 30 minutes
Serve delicious hot egg dum biryani with raita of your choice.