There is nothing comparable to the aroma of freshly baked breads at home. I had been lazy on my baking for quite some time and after a long long time I could get myself motivated to create these crusty golden cute bread bowls.  This was my first attempt in making these cuties, and was very nervous till I got them perfectly done at the end.  My eyes rolled and rolled when I saw them with the perfect color, ideal crust and just the right size. Voila !!!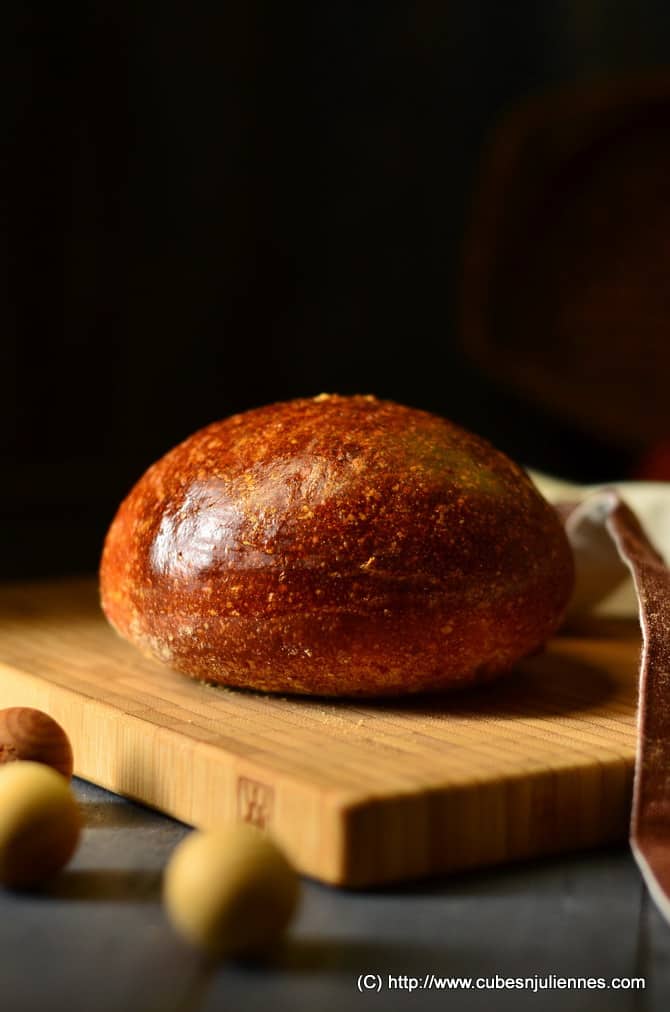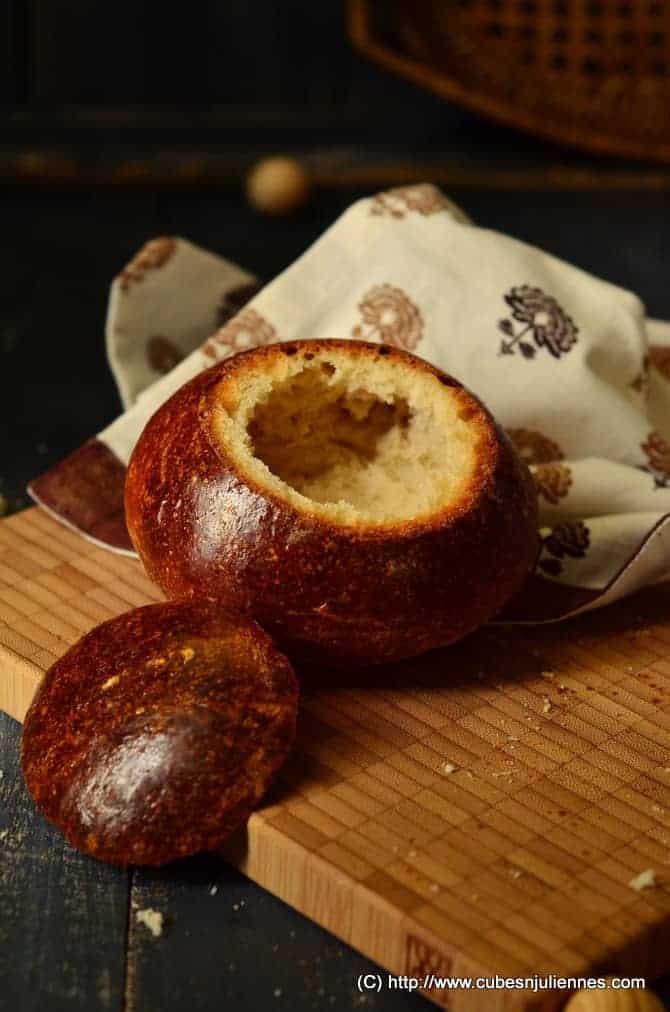 INGREDIENTS:-
3½ cups + extra for flouring, all purpose flour
4 tbsp, vital wheat gluten
1 cup, milk
½ cup, warm water
2½ tsp, instant dry yeast
3 tbsp, olive oil
2 tbsp, sugar
¾ tsp, salt
Corn meal for sprinkling
 1 egg white + 1 tbsp of water for eggwash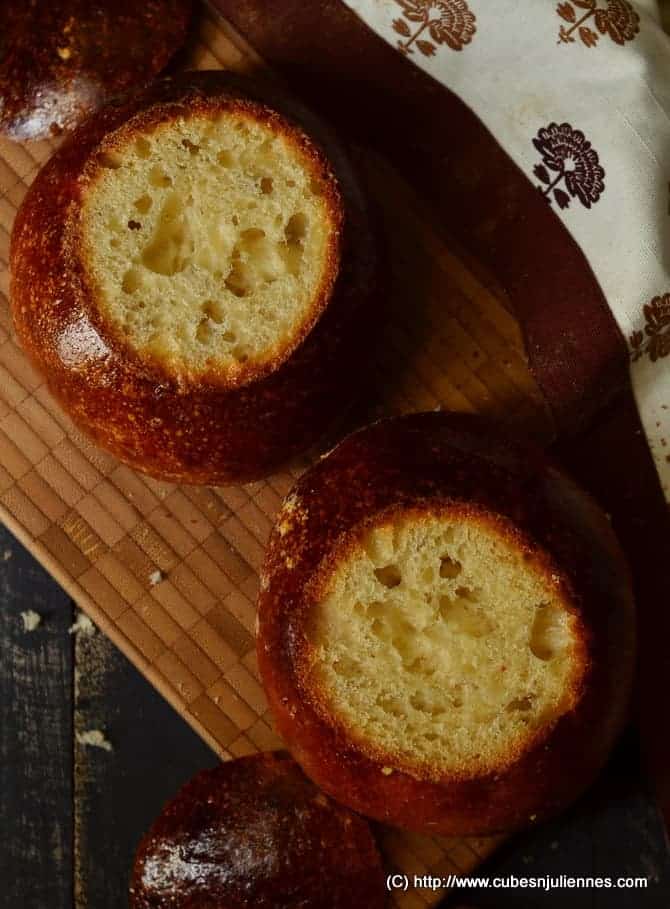 METHOD:-
Mix yeast,sugar and warm water in bowl
Let it rest for 5-7 mins or till its foamy
In a big bowl mix together flour, salt and wheat gluten
Make a well in the centre of the flour mixture, add yeast mixture, milk and olive oil
Knead the dough till soft. You may add more water if required, but do not add too much water at a time.
Transfer the dough on flat lightly floured working surface and knead with the heels of the hand till the dough is soft(8-10 mins) Do not compromise at this step of kneading as this is the key step to get a perfect dough.
If you are using a stand mixer, mix everything and knead the dough on a medium speed for 10mins.
Transfer the dough in an oiled bowl. Cover with cling film and keep it in warm place for an hour or till its size is doubled.
Grease the baking sheet or a baking tray and sprinkle generously with the corn meal.  Keep it aside
After the dough has doubled in size, very gently punch it down.  Without any kneading, divide the dough equally into 4 portions.
Roll each portion into a ball.  Place it on the baking sheet or baking tray sprinkled with corn meal with seam side of the ball at the bottom.
Keep sufficient spacing between each ball to avoid sticking with each other while second rising and baking.
Cover it with a damp cloth and keep it in a warm place for another 35 to 40 mins.
Pre heat the oven at 200 degrees centigrade.
Lightly beat the egg white with a tbsp of water to prepare an egg wash.
Brush each ball with the egg wash and bake them for 15 mins.
After 15 min, take them out. Once again, brush the bowls with the egg wash.
Set the oven to toast mode.
Toast these bowls for another 15mins or till they are nice crusty golden brown.
Properly baked bowls should sound hollow when tapped at the bottom.
Cool them completely on a wire rack.
Cut off the top with a sharp knife. Hollow it from within retaining the rim of the bowls atleast ½ inch in size.
Fill them with the desired soup or dip of your choice and enjoy immediately.
 These can serve as bowls for soups, dips, pastas, salads, baked eggs for breakfast and so on..NOTE:- If you prefer to make it vegetarian, you can skip the egg wash and use milk for brushing.