Dry Fruit Powder Mix powder is another special that is in my To-do list especially for Ramadan. Hareera powder one of the most nutritious drink that keeps your body energetic and healthy during fasts. You can drink it as your iftar or light dinner or even Suhr. In our region( north India), we call it Turri. There are many ways for the preparation of hareera, each recipe differs from home to home. This is best for not only for adults but all the age groups. In case, if you are allergic to cashews or coconut, skip them and proceed with the rest. Further more, you can add your choice of nuts and even increase the amount of nuts you like the most. There is no hard and fast rules for the choices of nuts. But I highly recommend you to add Fox nuts as they are  rich in calcium, helps in Arthritis and neuralgias, good for diabetic patients and strengthens your spleen and kidney. Fox nuts helps in increasing your moisture level in body, aids digestion and rejuvenates respiratory system. Hareera is good for your health in winters, rains or while you are in fasts. In most of the Muslim households, it is a must make nourishing 
drink 
in North India in the month of Ramadan. Glassful of this drink makes best healthy breakfast or sip it warm before bed on rainy or chilly nights. Let's go through how to make this yummy healthy dry fruit powder mix/hareera..…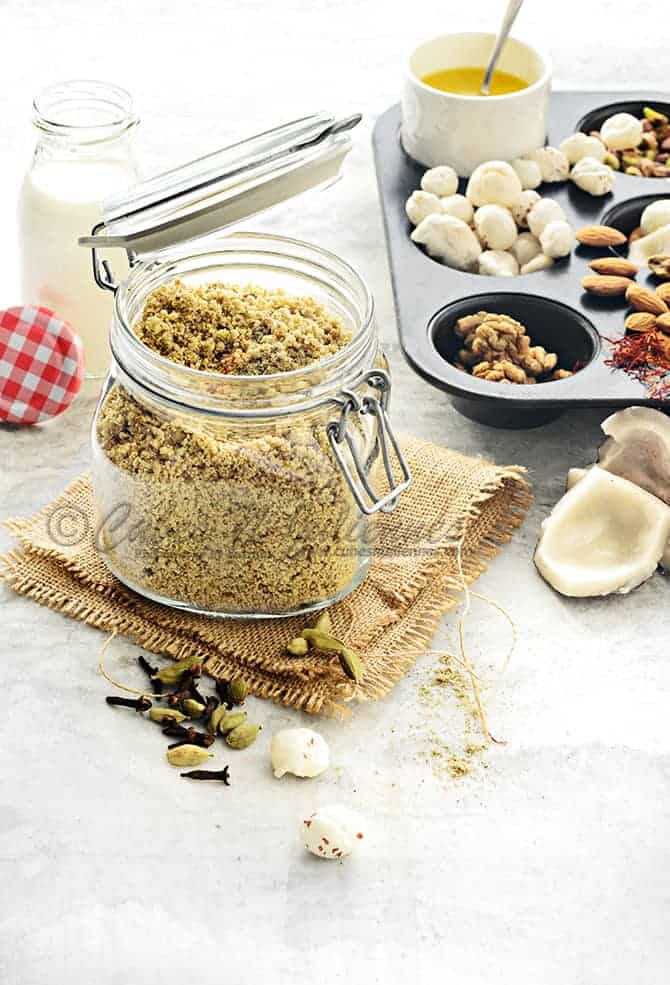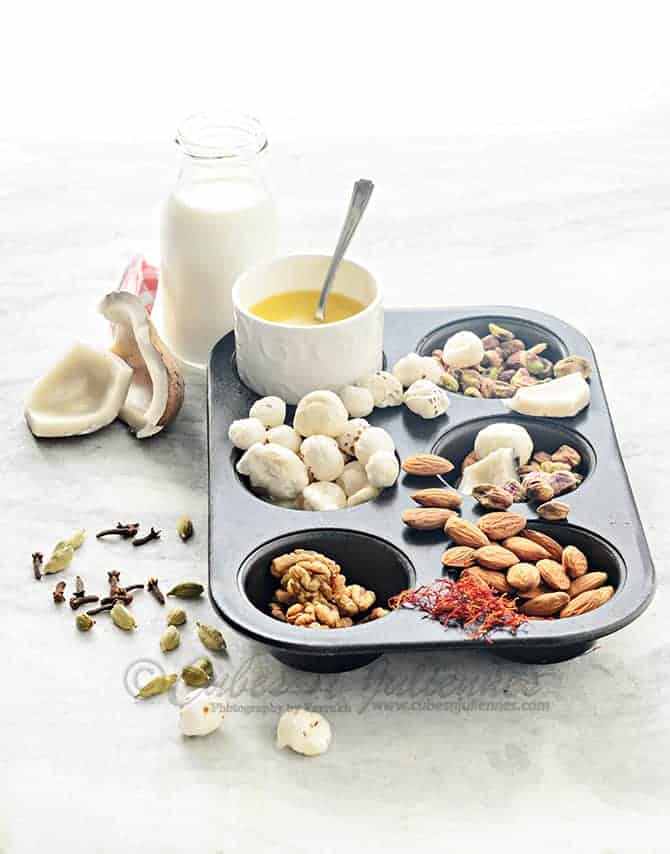 All the ingredients are at room temperature
100 gms, fox nuts (makhane)
50 gms, dried coconut, roughly chopped
1&1/2 tablespoon, cardamom powder 
A generous 2 pinch of saffron
Grind separately, the  almonds, pistachios, walnuts, coconut, fox nuts to a powder. Some might even be a coarse bits, thats absolutely fine. Mix all of them in large bowl after grinding.
Very lightly roast the saffron and keep it aside.
In a deep heavy bottom pan, heat ghee. once ghee is hot, add green cardamoms and cloves. Fry them for few seconds.
Add dry fruit powder and mix well. Cook on medium low heat for 6-8 minutes or until it releases aroma and reaches slighty golden colour. Stir in between
 Finally add cardamom powder and crushed saffron. cook for another minute or 2.
Take it off the heat and cool completely.
Once cooled, store it in clean airtight jar or container. You can easily store this powder mix for 4 months under refrigeration.
Heat 1 glass of milk, add 2 tsp of dry fruit powder mix, sugar to taste, bring it to boil and simmer for 3-4 minutes. Enjoy hot or warm.
 You can also mix the hareera powder to glass of warm milk and drink it. But I prefer the other method of simmering it with milk as it makes the drink more flavourful, aromatic and tasty