Greetings to all my lovely friends, readers and followers!!
 As mentioned earlier in my post of Kesar Rabdi, we had a lovely time in Mumbai for Eid celebration. Kids had spent a joyous time with their Grandparents and cousins. While coming back to Bangalore, their eyes were full of tears as they wanted to stay there for some more time. By some means we tried to pacify both our kids and said to them that few surprises are waiting for them at home, so that they could come back home with cheerful face and mind. The first surprise for them was their uncle-aunt (my cousins) and cousins from Oman were visiting us for 3 days. Kids were impatiently waiting for them to come. They arrived and my little broods spent all their lovey time in playing, chatting, doing some activities with their cousins. Kids were eventful with them and I was enjoying my cooking deeds. That's when these delicious, super soft, very light, airy Loaf and muffins were made. The best part is, my cousin who is former executive Chef gave me some very useful tip and guided me in making these yummy cakes. So here is how you can get them so perfect…..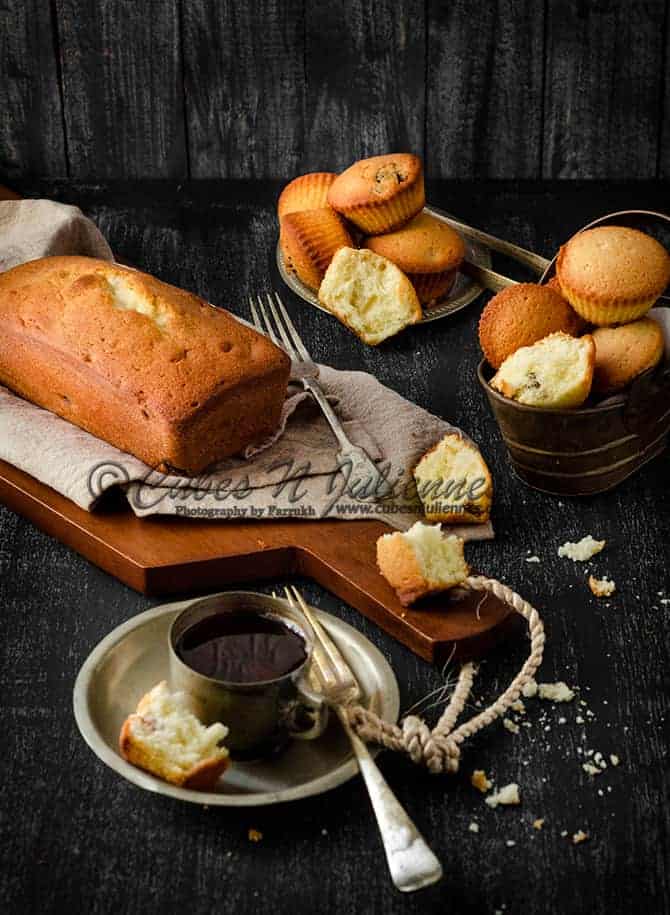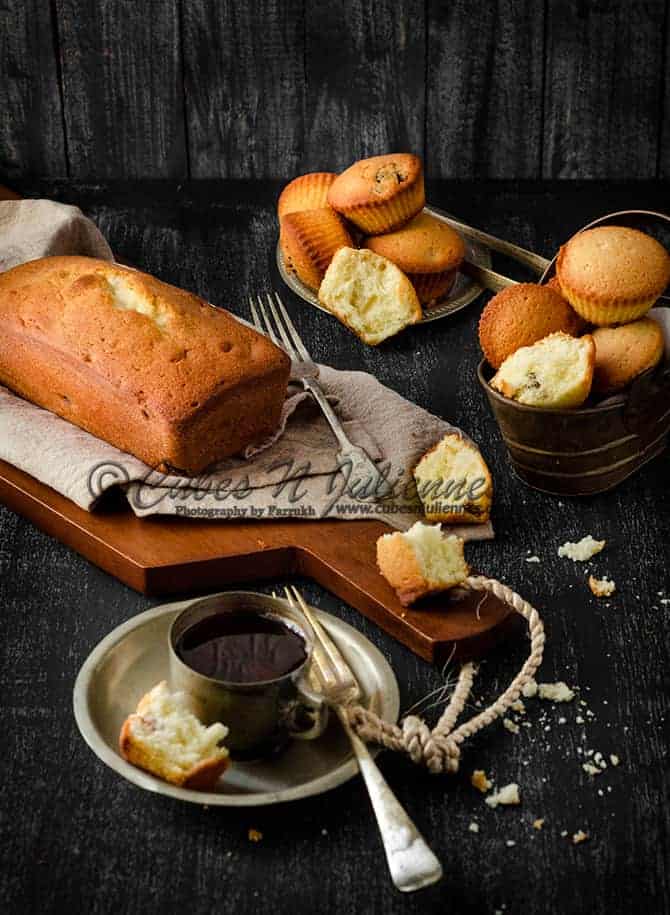 INGREDIENTS:- 
All Ingredients are at room temperature unless specified
300 gms, all-purpose flour
300 gms, unsalted butter at room temperature
300 gms, powdered sugar/caster sugar
5 nos, eggs, lightly beaten
50 ml, milk
1 tsp , baking powder
2 tsp, vanilla essence
¾ cup, raisins
Extra all-purpose flour for coating and dusting
Pre-heat the oven at 160 degrees
Grease and dust the 9*5 inch loaf pan. Line the muffin pan with muffin liners or silicon mold
Coat the raisins with some flour and keep it aside
Sift together flour and baking powder.
Cream together butter and sugar on medium speed until very pale, creamy and fluffy (appox 5-6 minutes)
Add spoonful of lightly beaten egg to the butter-sugar mixture and mix well on low speed. Repeat the same till all the beaten eggs gets mixed well. This will avoid the curdling of the mixture and will give you perfect crumb, fluffiness and airy cake/loaf/muffins
Add vanilla essence and milk, mix well.
Fold-in the all-purpose flour mixture until combined well. Do not over mix it. Fold-in the raisins.
Fill-in the muffin liners and loaf pan upto 2/3 level.
Bake the muffins for 20 minutes and loaf cake for 50-55 minutes or till skewer comes out clean.
Transfer them on wire rack and cool it completely
Slice the loaf, drizzle some chocolate sauce and serve them with tea or coffee.
NOTE:
You can make them in bulk and store in an airtight container in refrigerator for easily upto 2 weeks. Just warm in microwave for few seconds and enjoy
You can add any other dry fruits, nuts, choco chips or tuty fruity of your choice instead of raisins