Hello all and a warm Welcome !!
There was a time few years back when I only knew how to cook Dal,aloo ki sabzi,phulkas and omlette!!! A big FAILURE in cooking chawal and chai!!!
After getting married..gradually I started experimenting on food, trying out variations with different combinations…while doing so, slowly I developed passion for cooking…at times I even failed in my attempts…but this did not really put me down,instead I tried harder and harder until I got the best results.
I still remember the day when  I tried my first hands on rasmalai..made multiple attempts but did not get it right,it was worstest Rasmalai I ever had..I decided that I have to learn and make the best rasmalai no matter how much I have to work hard…I made 13 attempts on that single day for Rasmalai and at the end 14th attempt gave me the best result..I saw a beautiful smile on my hubby's ( Mohammed Shadab ) face after the first bite of rasmalai he relished. My journey of experiments in cooking continued,my confidence got boosted and outcomes were successful.
Then one fine day Shadab brought this up with me that when you make such amazing recipes and you know so much about food, why don't you start sharing it with others. It was then the 27th of june 2013 when he created this blog for me and set it up where I started compiling my creations.
Today, my blog completes a wonderful and successful 1st year and has earned lovely fans, followers and friends. I would like to take this opportunity to thank you for expressing your faith in me and my recipes. Everytime you successfully follow my recipes and enjoy them, it gives double the satisfaction and happiness to me. Once again, Thank You very much.
As a simple celebration, made this Chocolate Almond-Plum Bavarian Torte…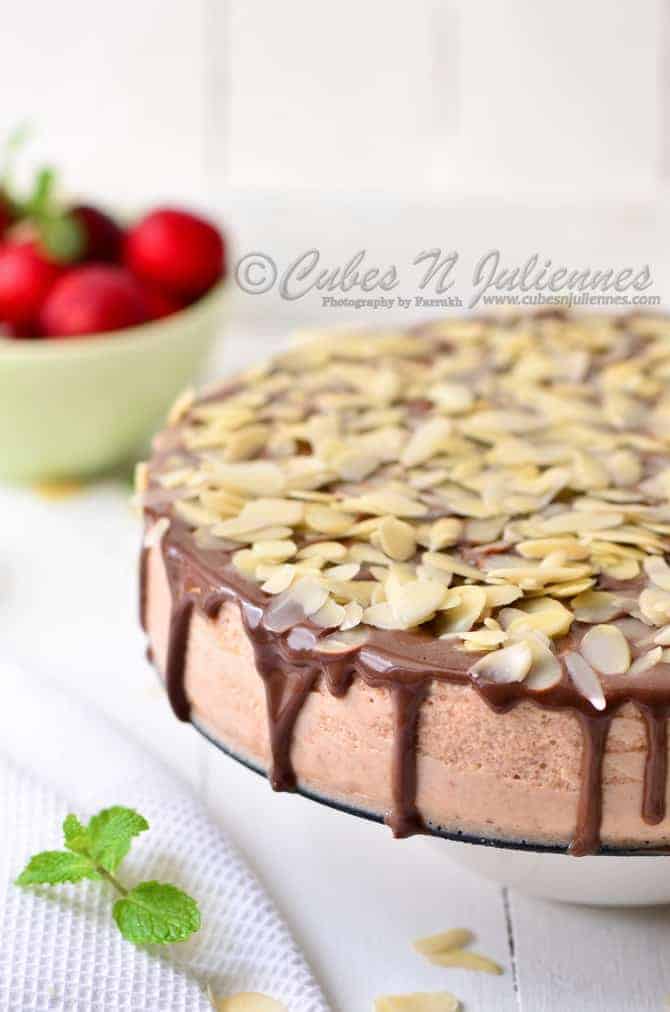 INGREDIENTS:- 
All ingredients to be at room temperature unless specified
For Torte-
125 gms, almond meal
45 gms, cocoa powder
30 gms, all-purpose flour
1/3 cup, cream
100 gms, butter
175 gms, brown sugar
4 nos, large eggs (separated)
¼ tsp, almond extract
1 tsp, vanilla extract
¼  cup, boiling water
For Plum Sauce-
2 cups, plum, finely chopped
3 tbsp, sugar
1 tsp, lemon juice
Zest of 1 lemon
¼ cup, water
For Bavarian Cream-
4 nos, egg yolks
2 cups, heavy cream (Chilled)
¼ cup, sugar
12 gms, gelatin
A pinch of salt
For Chocolate Ganache-
150 gms, milk chocolate
125 ml, cream
2 tbsp, butter, melted
METHOD:-
For Torte
Preheat the oven at 190 degrees C.
Grease and line 8 inch of cake tin.
Sift together cocoa powder and all-purpose flour.
Beat together butter and sugar for 3 to 4 mins. Add boiling water and mix.
Add cream, egg yolks, almond extract and vanilla extracts, beat for another minute. Add almond meal and mix.
Add flour and cocoa powder mixture, gently mix.
In another bowl, beat egg whites till it forms a stiff peak.
Fold the egg whites gently into the almond cocoa mixture in 3 additions.
Pour the batter in the prepared pan and bake for 30 to 35 mins or till it pass the toothpick test.
Take it of the pan from the oven and allow it to cool completely.
For Plum sauce-
Combine the finely chopped plum, sugar, lemon zest and lemon juice with ¼ cup of water.
Cook till it reaches medium to thin sauce consistency.
For Bavarian Cream-
Combine together egg yolk, sugar, gelatin and salt in a small pan until blended.
Stir in few tbsps of prepared hot plum sauce and mix. Gradually add the remaining sauce to egg yolk
mixture, stirring continuously.
Place this mixture on low heat, stir constantly and let it cook till steam begins to appear, do not boil it. The mixture will thicken (heavy cream consistency) and will coat the back of the spoon, at this stage take it off the heat.
Whip cream till it forms the stiff peak, add prepared plum egg mixture and mix well
In a pan, heat the cream till it starts to get a boil. Do not boil at all.
Pour this hot cream and melted butter over the chocolate. Whisk well till chocolate becomes shiny and smooth.
Take a 9-inch spring form pan and place the torte in the center.
Now pour plum-cream mixture over the cake. Cover the cake completely from the top and the side.
Refrigerate it for 3 to 4 hours.
Once the cake and cream is set, take a knife. Dip it in warm water and run it around the 
periphery of the cake. Now open and remove the spring form pan ring very carefully. The cake should remain on the spring form base
Pour the prepared ganache on top of the cake.
Decorate the cake as needed.