Ever wondered whether a samosa can be of Chinese style? Well, then look out for this gorgeous crisp Chinese Chicken Noodles Samosa. We are heading towards the end of Pious Ramadan, today is 23rd day of fast. In another few days In Sha Allah Muslims all over the world would be celebrating Eid-ul-fitr. This year I kept my iftar platter very simple consisting of only fruits, dates, water/smoothies and once in 3-4 days I used to prepare some pakodas for a change. Couple of days back I was remembering my past years of Ramadan spent in Mumbai before my marriage.Wide variety of mouth-watering veg and non-veg snack joint opening around 4 pm every day until the end of Ramadan, we really did not do much at home for iftar in those times. Whatever we were tempting for, we bought in a small portion to relish them along with loads of fruit, dates and juice. I miss those Ramadan days here in bangalore as quite a few far away places are meant for iftar or Ramadan delicacies. Here I see, not everywhere I get to find these Ramadan snack joints, the way we had in Mumbai. Those memories took me to yum crisp Chinese chicken samosa that I had long back during Ramadan in Mumbai. Gathered all the ingredients, started working on it and the result was masterful. Damn! my son loved it so much, asking for more and more. Made few batches to freeze them for him. Whenever these crisp samosas are in demand, I just need to fry them straight out from freezer and serve him to see the most beautiful smile on his face. Lets' quickly go through how I did them…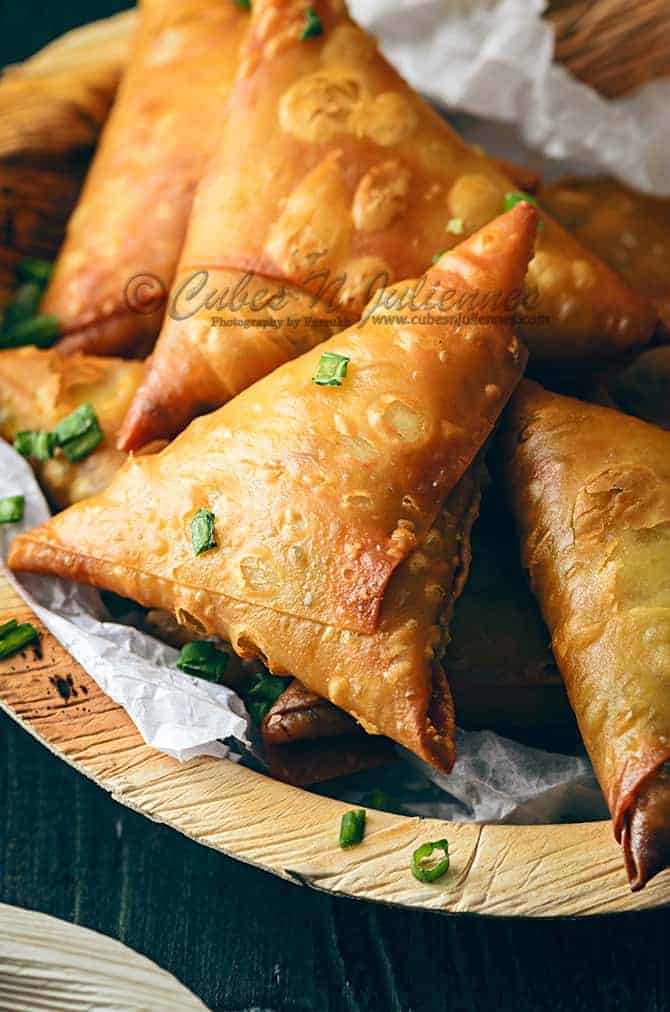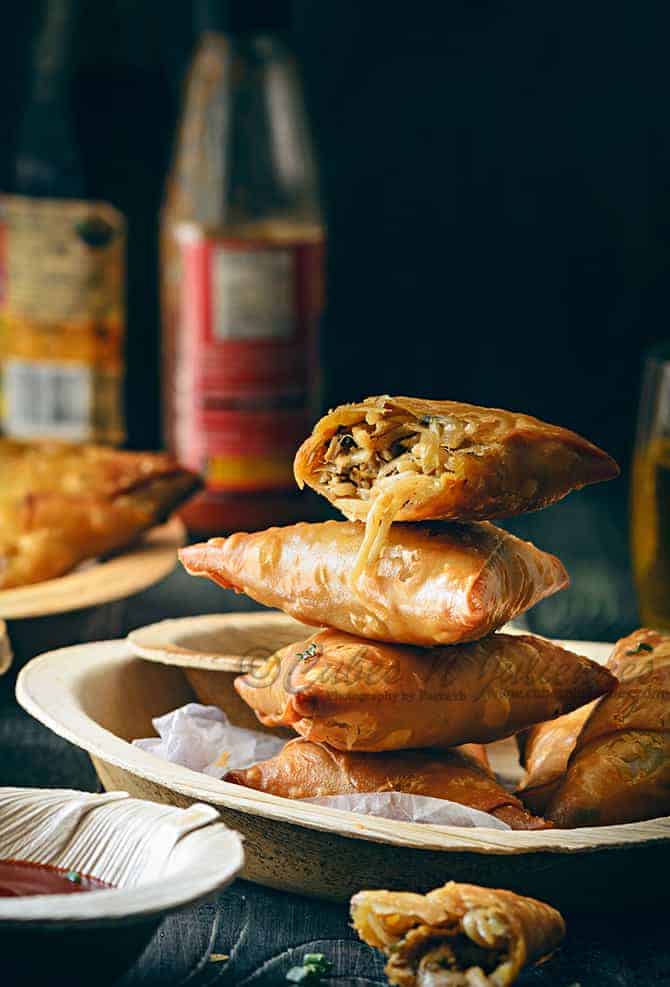 Ingredients:-
25-27, Samosa, pattis
400 gms, boneless chicken, boiled and shredded
150 gms of hakka noodles pack ( you can use any flavour- veg or non veg or egg)
2 cups, cabbage, shredded
1/4 cup, carrots, finely chopped
1/4 cup, french beans, finely chopped
1/4 cup, green capsicum, finely chopped
1 cup, spring onion greens, chopped
1/2 cup, spring onion bulbs, finely sliced
2 tablespoon, garlic, finely chopped
1 tablespoon, ginger, grated
2 teaspoon, dark soy sauce
1 tablespoon, All-in-one sauce (oyster mushroom sauce)
2 tablespoon, red chili sauce ( you may adjust as per your taste)
Salt and pepper to taste
3 tablespoon, sesame oil
3 tbsp Maida(all purpose flour)
Water to make a paste
Method :-
Boil the noodles as per packet instructions. keep it aside
In a wok or round bottom pan, heat sesame oil. Add garlic and ginger, fry until light brown and aromatic. Do not burn it.
Add sliced spring onion bulbs and fry for 2 minutes on high heat
Add finely chopped french beans and sauté on high heat for few minutes until raw smell goes off
Add carrot and shredded cabbage and toss on high heat for few minutes ( No water released from cabbage should remain, so toss well on very high heat taking care that it doesn't burn)
Add all-in-one  sauce, red chili sauce, dark soy and toss well
Add capsicum and toss well for couple of minutes
Add shredded chicken, boiled noodles, salt and pepper, toss well such that everything is mixed well. Take it off the heat.
Allow the mixture to cool completely.
Add chopped spring onion greens to the chicken noodles mixture and mix well
Make the paste of maida and water
Make a cone of the samosa patti, fill the mixture in it and wrap the sides to form a triangle.
Seal the edges using a flour paste. Do not overfill the cone with the mixture as it may cause the patti to tear or overflow.
Repeat the same procedure till all the mixture is used up. At this stage if you to freeze them, place the samosas on the tray such that they dont stick to each other and freeze them for few hours. Once frozen take them all and store them ziplock back in a freezer easily upto 2 months.
Heat oil in a kadhai.  Once oil gets hot, reduce the heat to medium-high and fry the samosas well till crisp and golden brown.  Do not fry on high heat to avoid burning of the samosas.