Celery Pepper Chicken is delectable succulent Indo-Chinese appetiser tossed with celery and pepper. Especially during rains, when the weather is breezy and cool, we lust for some hot Indo-Chinese Chicken soup and appetisers and we rush to our favourite Chinese restaurant. But this time it was my son's request to make some yum Chinese menu for dinner, so I did it. Yippee! my kids and hubby ate them all with a zeal, it was absolutely piquant. So here's the simple recipe of how to make the best celery pepper chicken at home…let's see how I did it…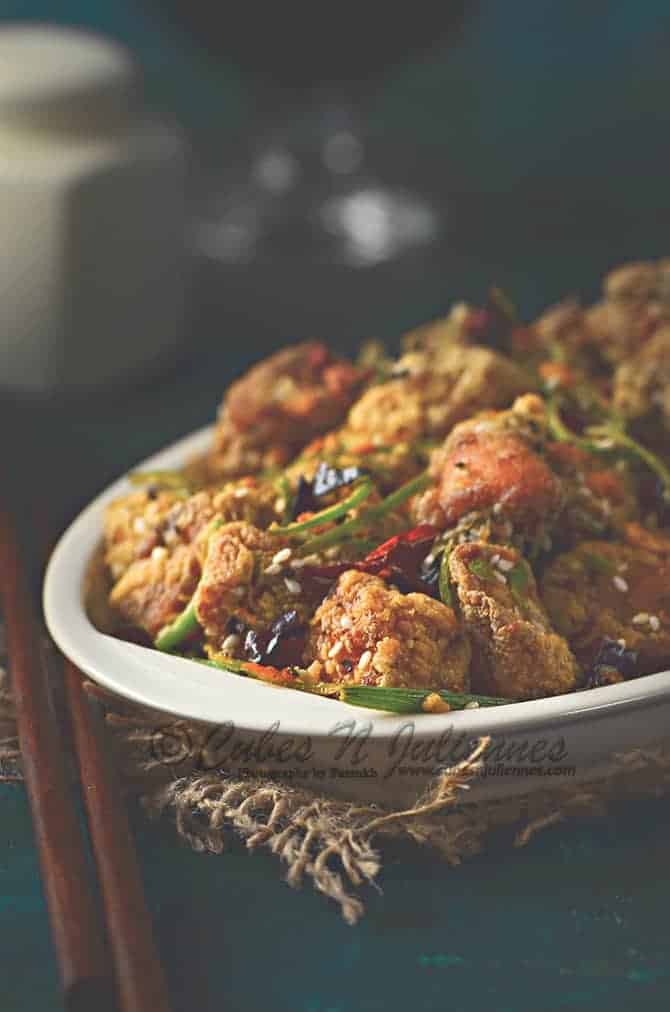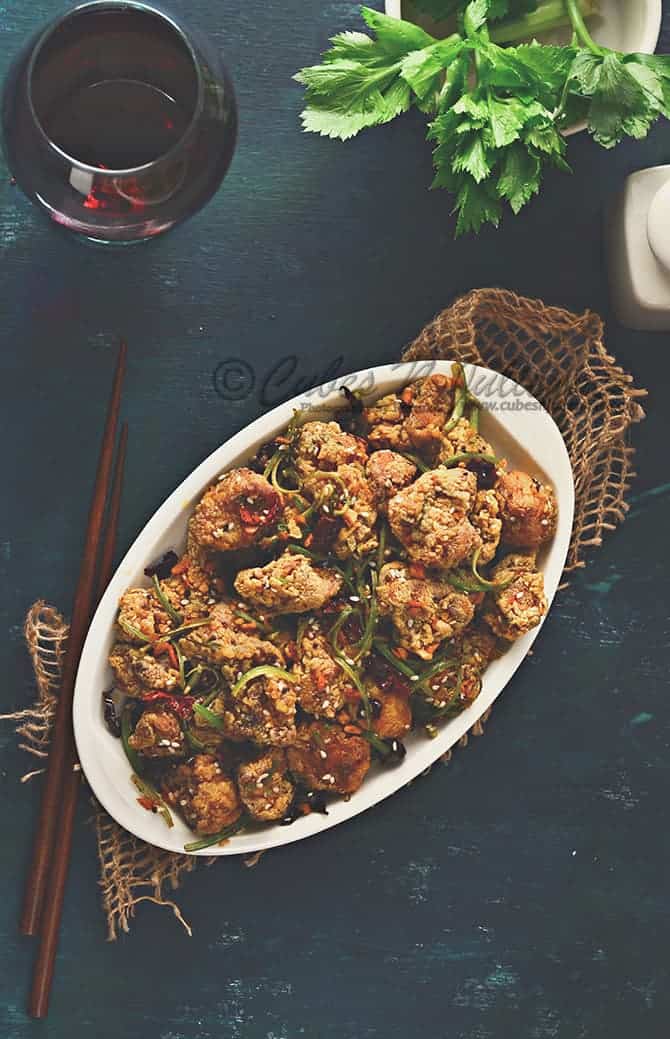 Ingredients:-
For Marination:-
400 grams, boneless chicken, cut in bite size pieces
1 tablespoon, fresh celery, finely chopped
1/2 tablespoon, soy sauce
1/2 tablespoon, green chili sauce
1/2 teaspoon, freshly crushed black pepper
1 tablespoon, sesame oil
For Coating:
1 egg, beaten
Cornflour as required
Refined Oil for frying
For saute:-
1 1/2 tablespoon, garlic , finely chopped
1/2 tablespoon, ginger, finely chopped
2 tablespoon, dried red chilies, finely chopped
1/2 tablespoon, sesame seeds
1/2 cup, celery stalk, thinly quartered in length of around 1&half to 2 inch
1 teaspoon, dark soy sauce
1 teaspoon, freshly peppercorn
4 tablespoon, sesame oil
Salt to taste
Method:-
Marinate chicken with all the ingredients mentioned under marination. cover and refrigerate it for an hour.
Once the chicken is ready to be fried, add beaten eggs and mix well.
Heat enough oil in a wok or kadhai
Ina plastic bag or zip pouch, add cornflour. Now add marinated chicken pieces and shake to coat them with flour well. Shake off the excess
Deep fry the chicken in hot oil for 4-5 minutes or until just done. Fry them in batches and do not over fry the chicken
Drain the chicken on to absorbent paper.
In another wok or kadhai, heat sesame oil. Add garlic, ginger and fry until aromatic and light golden ( do not burn them.)
Add red chilies and fry for few seconds
Add celery stalks, sesame seeds, dark soy sauce and salt, mix well. Toss for a minute
Add chicken, crushed black pepper and toss very well for a minute or 2
Delicious Celery peppercorn chicken is ready to be served with sauces of your choice.