Aloo Methi is not one of those special dishes which are prepared on occasions, but indeed it is one of the most popular Indian dish that every house would be having it on its menu at a decent frequency. Personally, I have an obsession for methi and I would love to combine it with any veggies, dal or meat and relish it. There are some parts of India where methi is not available throughout the year and the best season for it is winter when you see greens flooded in the market.  Luckily, being in Bangalore I do have the luxury of finding it throughout the year.  There are many other dishes which I have prepared using it and have posted on my blog earlier like Methi Chicken, Machchli Methi, Methi ki Dal, Methi Makai ki Kadhi and many more.  Adding to the list is this Aloo Methi which may sound so simple but can turn out to be a feast for the vegetarians.  There are number of different ways to make it, but here is how I made it and you too can….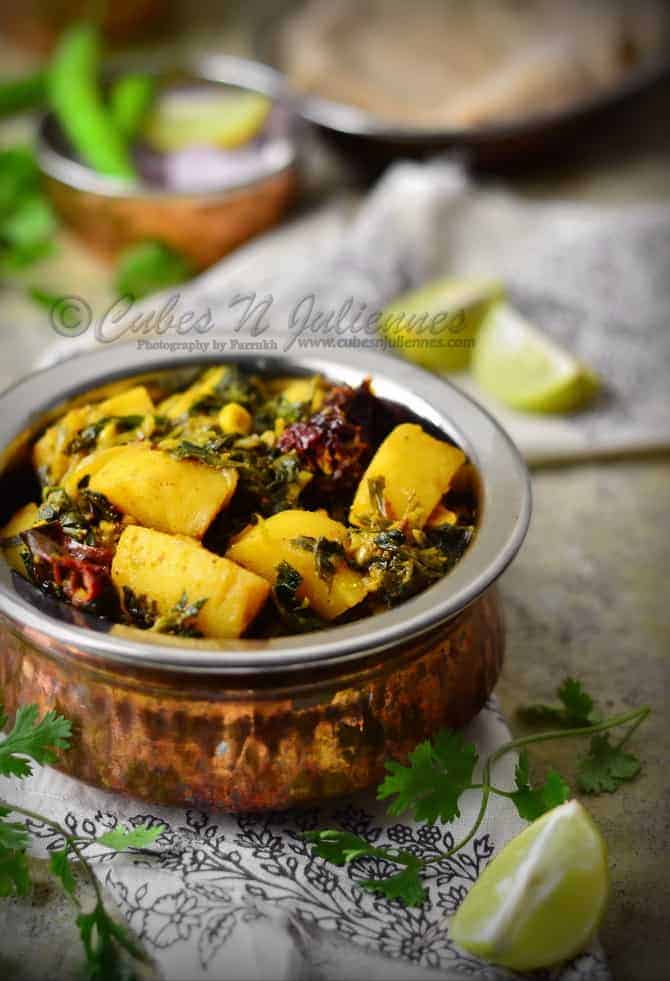 3 cups, fresh methi (fenugreek) leaves, tightly packed, roughly torn.
2 nos, large potatoes, cut in 1 inch cubes
1 nos, large tomato, finely chopped
3 nos, whole red chillies, broken into 2
6 nos, garlic cloves, chopped/sliced
1 nos, medium onion, finely sliced/chopped
1 nos, green chilli, chopped
½ tsp, garam masala powder
2 tbsp(30 ml), mustard oil
In a deep pan or kadhai, heat oil till smoky. Reduce the flame to low. Add cumin seeds, garlic and fry till garlic are golden brown(do not burn).  Add broken red chillies and fry for another few seconds
Add onions and fry till translucent. Add potatoes and sauté on high heat for 2 minutes stirring well
Cover and cook(on low flame) till potatoes are 50% done (approx. 5-6 minutes). Sprinkle little water in between if required.
Increase the heat to high, add tomatoes, green chillies, coriander powder, turmeric and salt. Sauté well.
Cover and cook till the potatoes are just tender but not mushy.
Add methi leaves, garam masala powder and sauté on high heat stirring well (approx. 2-3 minutes). Do not cover or over cook at this stage. If methi leaves releases too much of water, sauté for another minute till water dries up.
Dish out and enjoy hot aloo methi with phulkas/parathas, dal-rice, pickle and chutney of your choice.
Note: 
If you prefer, you can use other refined oil instead of mustard, but then do not heat the oil till smoky.